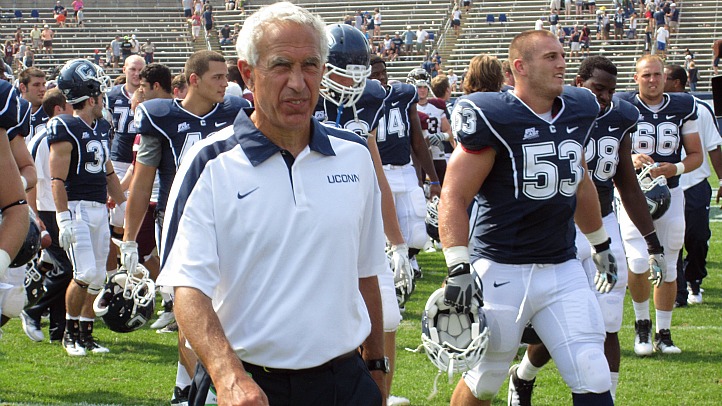 Recruiting is the lifeblood of any successful college program, and it's something the Huskies football team aspires too under second-year head coach Paul Pasqualoni. Of course, every new hire has grand plans for success, but Pasqualoni seems to have a firm grasp on how to make it happen.

The team was 5-7 in his first season and many of the offense's shortcomings were a function of the lack of depth and experience at quarterback. Pasqualoni and his coaching staff went out and landed the best high school quarterback in Connecticut, Casey Cochran, and brought in junior college transfer Chandler Whitmer, two players who will get a crack at the gig in 2012.

And while Connecticut high schools turn out some top-flight players, if Pasqualoni wants take the program from middle-of-the-road Big East outfit to annual BCS Bowl contender (until the format is changed, anyway), it will require the help of some high-profile players from out of state. And that reality explains why, among the six schools with recruiting expenditure data available, UConn ranks second. Here's the list courtesy of ESPN.com's Big East Blog:

Rutgers: $350,261
UConn: $263,302
Louisville: $230,650
Cincinnati: $210,124
West Virginia: $207,933
USF: $184,280

As ESPN.com's Andrea Adelson points out, USF can recruit locally; Florida is a football hotbed. Same holds for new conference members like Houston. "Houston coach Tony Levine, whose team joins the Big East in 2013, told me he has five assistants that recruit the Houston area alone," Adelson wrote Tuesday. "Think about how much is saved in airfare and hotel stays, because assistants can just drive their own cars and sleep in their own homes."

Which explains UConn's predicament.

Rutgers may seem like an odd choice to top the list; the tri-state area has plenty of talented players, but the Scarlet Knights also have a top-25 recruiting class in the country. Turns out, it was money well spent. Also worth noting: UConn and West Virginia were the only two schools to spend less on recruiting in 2011 than in 2010.