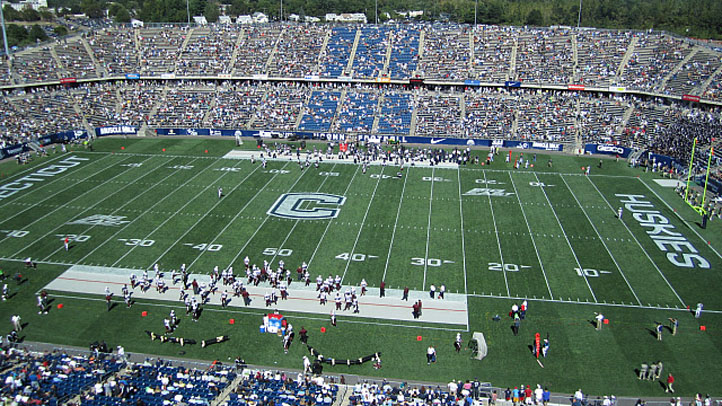 With Boise St. and San Diego St. returning to the Mountain West before ever playing a game in the Big East, the conference had to issue a revised home and away schedule that was initially released in December when it was assumed that that the two western schools had every intention of competing in the Big East next fall.

Here's the official release from UConn:
The University of Connecticut football team will play an eight-game league schedule and host seven games overall at Rentschler Field in the latest release sent out by the BIG EAST, revising the conference's home and away schedule breakdown. The schedule was originally established in December before the league's membership went from 12 to 10 teams for 2013.

UConn will play home BIG EAST Conference games against Louisville, Memphis, Rutgers and USF. The Huskies' non-league home games will be Maryland (Sept. 14), Michigan (Sept. 21) and Towson State (Aug. 29). The exact dates for BIG EAST games will be announced in early 2013.

Memphis was added to Connecticut's home schedule to replace the departure of San Diego State to the Mountain West Conference, along with Boise State.

Road conference games for the Huskies in 2013 will be Central Florida, Cincinnati, SMU and Temple. UConn's lone non-conference road game will be at Buffalo (Sept. 28).

UConn's home schedule features three teams that played in bowl games this year, including: Louisville, winners of the Allstate Sugar Bowl vs. Florida; Michigan in the Outback Bowl vs. South Carolina; and Rutgers in the Russell Athletic Bowl vs. Virginia Tech.

The Huskies also play road games against three bowl teams: Central Florida, winners of the Beef 'O' Brady's Bowl vs. Ball State; Cincinnati, winner of the Belk Bowl vs. Duke; and SMU, winners over Fresno State in the Sheraton Hawaii Bowl.

The BIG EAST Conference will have 10 football playing schools in 2013, the largest membership in the league's 23 seasons of football. Each team plays eight conference games with four games at home and four on the road.
Houston is the only Big East school UConn won't face next season.

Despite losing San Diego St. on the schedule, we're guessing athletic director Warde Manuel's comments in December still hold.

"I am very excited for the home schedule that our football team will play in 2013 and I think our fans should be too," he said at the time. "As I continue to say, it is important for UConn to have the Rentschler Field full for every game. Our football team will be working hard to prepare for the 2013 season and we need the support from our loyal Husky followers more than ever."