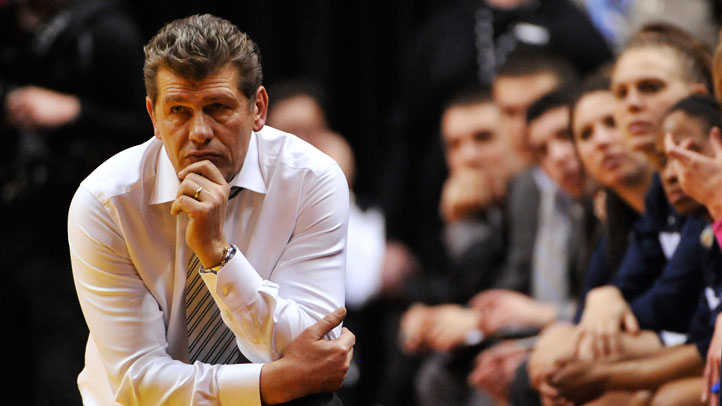 The men's team's season has ended before the women have even had a chance to play a single NCAA Tournament game. But their time is coming: on Saturday the Kingston Region's No. 1 seeded Huskies face No. 16 Prairie View.

Coach Geno Auriemma is looking for his eighth national title, something that may have seemed like a tall order at various points this season. UConn heads into the tourney with a 29-4 record which, for any other program is reason for celebration. And while the Huskies aren't complaining about their fate (they are a No. 1 seed, after all), they have been plagued by inconsistency for most of the season.

"There were times when we played Stanford and Texas A&M in January and during the Big East tournament, when we played really good basketball," Auriemma said according to the Hartford Courant's John Altavilla. "But having a new team, a young team, it's hard to say what our best basketball is."

"I wouldn't call the Big East title game [a win over Notre Dame] our best basketball. I don't know what that would be. It's been so long since we've had four players play well on the same night that I really don't remember. It's been a struggle. Maybe this weekend will be that for us."

Interesting. We felt like the Huskies mitigated many of those concerns in the very same Notre Dame game Auriemma downplays. Then again, that's his M.O.: to paint his team as underdogs and motivate them in the process. Sometimes the strategy works (see, ahem, the Big East Tournament) and other times it's been less effective (see the three previous matchups -- all losses -- against Notre Dame).

Either way, UConn's journey to another championship begins at 2 p.m. Saturday. They haven't played in 14 days, which is good for resting players tired from a grueling 33-game schedule over four months, but that's about it.

"The time off is not ideal," Auriemma said. "I don't think any team really wants 10 days off at this time of year, especially after playing very well and getting a big win."

Senior Tiffany Hayes, who is recovering from a foot injury, agrees. "It would be hard for anyone to maintain the momentum, but you just need to go into practice thinking about winning the day."

Fair enough, but if history is any guide, UConn can use their opening-round matchup against Prairie View as a tune up for the rest of the tournament. Sure, there's a chance the Huskies lose (the last time it happened i the first round of the NCAAs was 1993), but we're guessing Auriemma has his team properly motivated … even if they haven't played in two weeks.