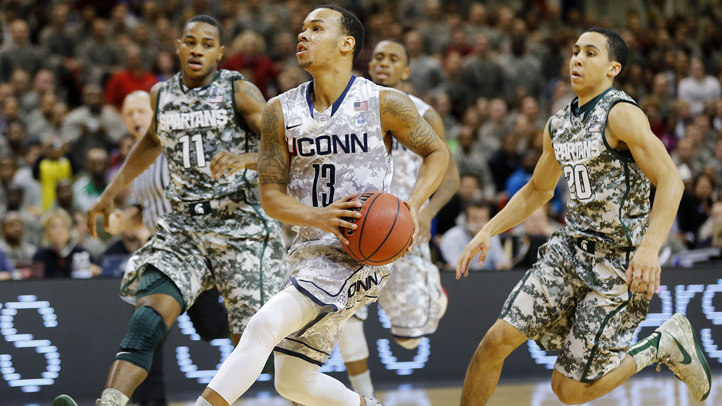 At the end of the day, you are what your record says you are. And for the upstart Huskies, a team picked to finish in the middle of the pack in the Big East, they're 4-0. After a convincing season-opening victory against Michigan St., and subsequent wins over Vermont and Wake, UConn cracked the top-25. Then, out of nowhere, they needed double-overtime to put away Quinnipiac.

But this has less to do about sub-par efforts than perhaps, a young Huskies' teams resilience. Yes, UConn hadn't lost to an in-state team in 26 years, Jim Calhoun's first year in Storrs, when Hartford eked out a 48-47 victory. The next 66 games have all gone to the Huskies, including Sunday night's 89-83 finish.

"This game meant a lot to me," first-year coach Kevin Ollie said via the Hartford Courant, "because we fought. When we were 10 points down, we could have hung our heads and given in and started pointing fingers, but everybody jumped in the fox hole. We made the plays to win the game. I'm proud of the guys in our locker room."

And that's the thing: a year ago, needing 50 minutes to beat a lesser opponent would've been disappointing. You know, expectations and whatnot. But for the Huskies, a team long on talent but short on experience, this is all part of the process.

And it starts with veteran leader Shabazz Napier. He ended the night with 29 points but things got off to an awful start. He was 1 for 10 in the first half before finally finding his stroke late in the 2nd half when he scored 11 points, including the game-tying shot with four seconds in regulation.

Quinnipiac coach Tom Moore called Napier's late-game heroics "brilliant."

Ollie, meanwhile, just told Napier to be himself.

"I just want him to be Shabazz, I want him to be aggressive."

And Napier, who is harder on himself anyone else could be, was frustrated with how the evening began but never lost his confidence.

"I hate when I do that," Napier said, "I take a lot of shots and I miss them and I get out of the game. My coaches and teammates keep telling me to keep shooting. I trusted in what they were telling me to do tonight."

It's a big win for a program used to big wins. But unlike previous squads, everything is new for this bunch. And when the Huskies are in the thick of their Big East schedule, they may look back to this game for inspiration on how to win.

But there's no rest for the weary; UConn faces New Mexico Monday night at 10 p.m.