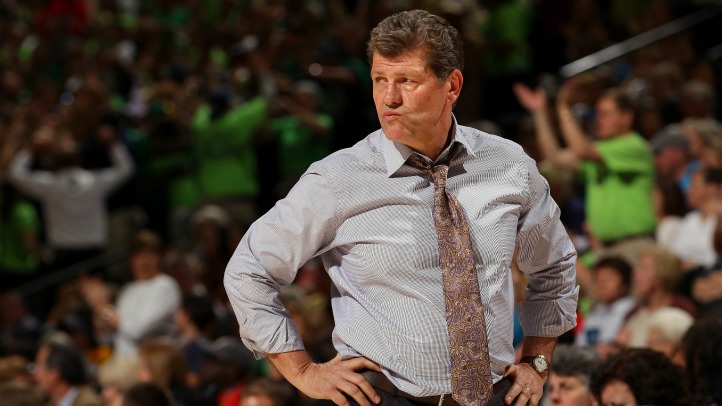 The win may count in the standings but the way the Huskies arrived at their latest win -- a 103-39 blowout over the College of Charleston -- resembled the team's two exhibition games. And in the truest sense of the word, UConn put on an exhibition Sunday afternoon.

Freshman center Breanna Stewart, who coach Geno Auriemma has suggested could be the best player to come through Storrs, led all scorers with 21 points, and added five rebounds and four steals. Sophomore Kaleena Mosqueda-Lewis scored 19, and freshman Morgan Tuck had 15. (See a trend here? The Huskies might be young and short on inexperience but they're long on talent.)

The win marks UConn's 17th straight in season openers.

Auriemma was his usually measured self afterwards.

"For a majority of the game I thought we got a lot done in a very efficient manner," he said. "That's one of the things that we've been trying to do in our practices. A lot of our walk-throughs and film are just pointing out that there are opportunities to score, and score fairly quickly. We want to take advantage of those and I thought we did exactly that for the most part."

Stewart, meanwhile, was ecstatic to begin her college career.

"Just waiting and looking forward to playing my first game here was something that I was itching to get at," she said. "And now that it's finally here, I'm really satisfied with what happened."

We're guessing this will be a familiar refrain in the coming weeks and months, not just from Stewart but as the rest of this team starts to gel.

"These three freshmen have really, really good basketball instincts," said Auriemma. "So when they're out on the floor, they make things happen that no matter how old you are, you could be here 10 years, and still not make the plays that these three make."

But it wasn't all unicorns and rainbows for UConn. They were without team leader, preseason All-American guard Bria Hartley who has been sidelined for a few weeks with an ankle injury. According to the school's web site, an MRI revealed a partial ligament tear and Hartley could be out four games.

It's not ideal but if the "next man up" philosophy is embraced anywhere, it's on Auriemma's squad.