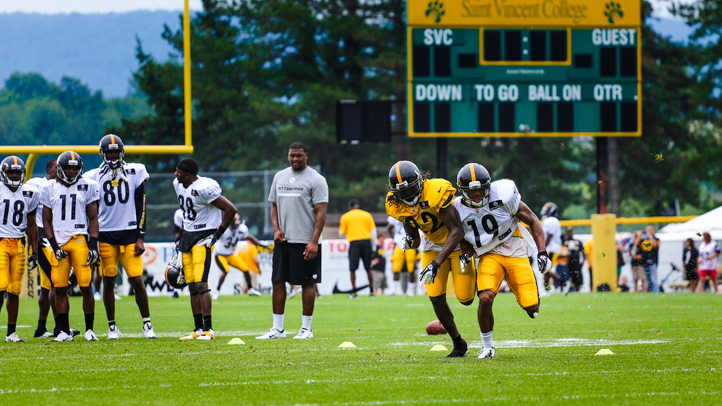 After going undrafted in 2012 following a stellar career at UConn that included 126 receptions for 1,699 yards and 13 touchdowns, Kashif Moore was on four NFL rosters last season: Cincinnati, Indianapolis, San Diego and Houston. Now he's in training camp with the Steelers where he's keeping his head down, working hard, and just hoping for an opportunity to prove himself on a squad that has plenty of youth at wide receiver but not much in the way of experience.
"I'm just out here trying to take things one day at a time," Moore told us from training camp on Wednesday. "I'm trying to make a play every day. I know there are some opportunities so I'm just out here competing."

One of the biggest obstacles for young players is making the transition from college to the NFL, something Moore fully understands.

"In college you're guaranteed four or five years of scholarships, but any day could be your last in the league. You have to approach it not knowing what's going to happen."

Moore has also been keeping close tabs on his former Huskies teammates Sio Moore (Raiders), Blidi Wreh-Wilson (Titans), Dwayne Gratz (Jaguars), Ryan Griffin (Texans) and Trevardo Williams (Texans), all of whom were drafted in April.

"I'm just so excited for those guys," Moore said. "I knew when they came to UConn they were going to be a force to be reckoned with. I just feel like they have a great opportunity. I know Sio is working with the (Raiders') first team, and all those guys are going to get an opportunity to play early. I know they're pretty excited for that."

Moore, who experienced the Texans' high-powered offense during the playoffs last January, thinks Griffin is a great fit.

"They definitely utilize their tight ends and Ryan Griffin is a playmaker. He has the size and he can definitely make some things happen."

Moore left UConn after coach Paul Pasqualoni's first season. We're entering Year 3 and Pasqualoni has had back-to-back 5-7 seasons.
"I feel like this could be their best year yet (under Pasqualoni). The young guys are starting to buy into what coach Pasqualoni's doing and I feel like they'll have some success this year, and hopefully that means more wins."

When we pressed Moore for his prediction he smiled and said, "I predict they'll do better than 5-7."