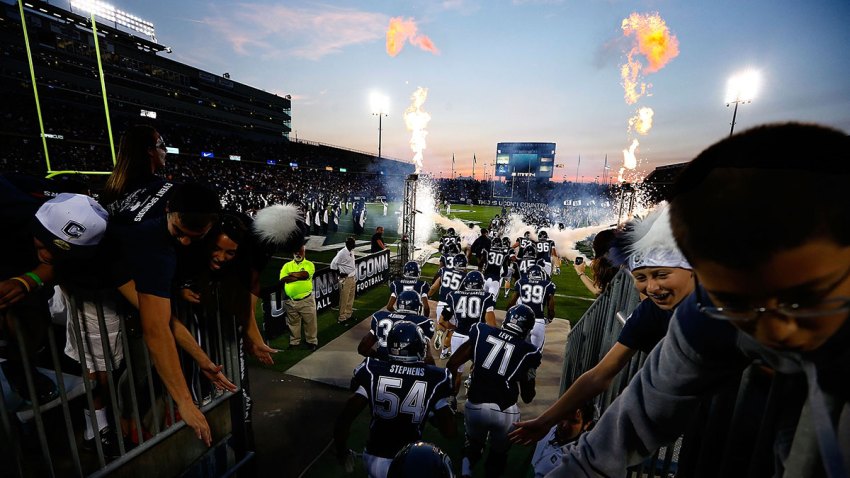 The UConn men's and women's basketball teams are fresh off national championships, the first time that's happened in a decade when -- you guessed it -- the Huskies were the last to achieve the feat simultaneously.

And while there's no substitute for winning, big-time college athletics is about one thing: money. We saw that in recent years with all the conference reshuffling, with the sole purpose of beefing up each conference's football presence. UConn, unfortunately, was on the wrong side of the conversation, and lost out to Lousiville on an opportunity to join the ACC. Instead, they're in the American Athletic Conference, which isn't known for its dominating football presence. And that, at the end of the day, is a concern.

Details via HartfordBusiness.com:
UConn football generated $11.1 million in revenue in fiscal 2012-2013, more than the men's and women's basketball teams combined, according to the U.S. Office of Postsecondary Education, which tracks athletic program spending.

Football also had higher expenses than basketball, but an examination of regional and national big-time college athletics programs shows their revenues and margins are driven by football. Syracuse, for example, earned $33.2 million in football revenue in fiscal '12-13; Boston College raked in $22.9 million; Duke earned $24.1 million; and Texas made $109.4 million.
UConn averaged 22,000 fans per game last season, down 5 percent from the season before, but athletic director Warde Emanuel wants to add 10,000 seats to Rentschler Field sometime in the next 10 years in an effort to generate an additional $2 million in ticket revenue, HartfordBusiness.com reports.

To fill those seats, the Huskies need to win, something they haven't done since the 2010 season.

"We have had a successful formula, even in football," said Manuel, who arrived in Storrs after serving as associated AD at Michigan. "We are three years removed from playing in a [Bowl Championship Series] game. ...

"Football takes time, and it depends how the new staff is doing with the system that is in place," he continued. "My hope in the next 10 years is that we have reached the point where we are consistently competing for championships, which will drive more demand and higher ticket prices."

More, via HartfordBusiness.com:
The heart of generating additional revenue is growing Rentschler Field in East Hartford to a 50,000-seat stadium, something the current design can accommodate with limited rehabilitation, Manuel said.

Global Spectrum, which manages Rentschler Field and the XL Center in Hartford, is more than willing to look at a stadium expansion once ticket demand calls for it, said Chris Lawrence, Global's general manager.
"Obviously, they are an up-and-coming program with Coach Diaco coming in," Lawrence said.

But if UConn's football program wants to be taken seriously, it needs to win.