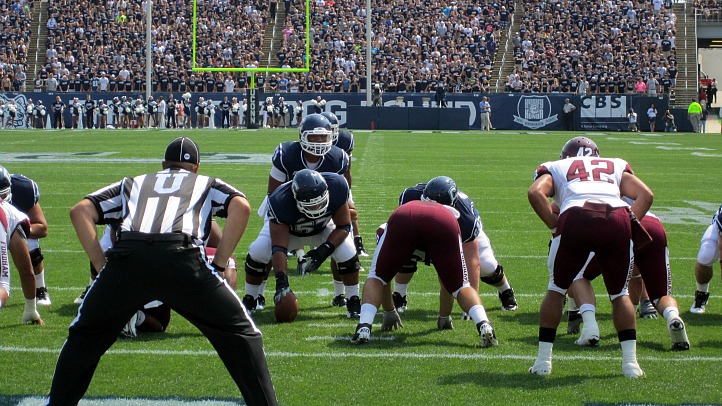 Heading into the season there were nearly as many questions about depth at running back as there were about finding a starting quarterback. Through two weeks, the QB job is still fluid, but it appears that redshirt sophomore Lyle McCombs is the Huskies' feature back. At first by default because senior transfer DJ Shoemate missed the first two games with an ankle injury. But after McCombs racked up 259 yards on 51 carries (5.1 average), including four touchdowns against Fordham, it's reasonable to think that he'll get most of the workload even after Shoemate returns.

Following the loss to Vanderbilt, head coach Paul Pasqualoni said Shoemate was "92 percent," which seems oddly specific. Either way, Shoemate wasn't at full strength, and with McCombs playing well, there was no reason to risk further injury. Still, Shoemate's ready to get back on the field.

"The coach really, really wanted to make sure this doesn't occur again." Shoemate said, according to the Hartford Courant's Desmond Conner. "Coach Pasqualoni wanted to make sure that I was going to do this the right way. Games are very, very valuable. I'm definitely going to be a part of this offense and help them the entire season so let's make sure there's no question of whether I'm going to be healthy or not."

It's a good problem to have, especially on a unit that is still waiting for Johnny McEntee to play more consistently. During the offseason, ESPN.com ranked the Huskies' offensive line as one of the best in the Big East, and we wrote at the time that that was more important than having a workhorse big-play running back like Jordan Todman, last year's conference offensive player of the year. The reasoning: you don't have to look far to find good running backs. Great ones come along less frequently, but it's much harder to find an o-line capable of opening running lanes. UConn has that, and through two weeks the results have put to rest any concerns about the rushing attack.

The problem, of course, is that defenses will start keying to stop the run first, forcing McEntee to put the ball in the air. He can't play any worse than he did against Vandy Saturday, but how much he improves will determine, in large part, how the season plays out for the Huskies.

McCombs has certainly eased McEntee's burden, and a healthy Shoemate will help, too. Eventually, however, McEntee's going to have to make some plays on his own. And we're guessing that test will come as soon as Friday night against Iowa State.