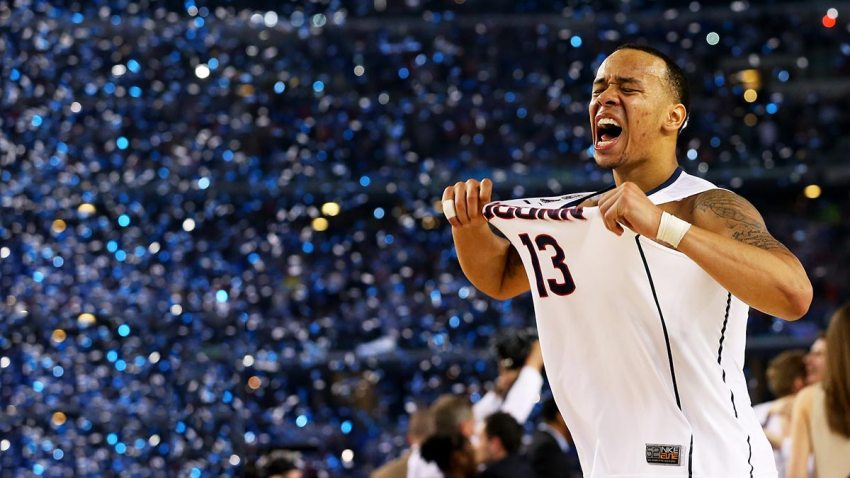 It was never going to be easy. But the struggles -- the ups and downs from one week to the next, from one possession to the next -- make it all worth it. And on Monday night in Arlington, Texas, Shabazz Napier ended his college career like he began it three years ago: With a national title.

This time, though, he had everything to do with the result, a 60-54 victory over a Kentucky team whose starting five were sophomores in high school when Kemba Walker led the Huskies over Butler back in 2011.

This time though, it was both old and new that willed UConn to its fourth national title since 1999. Relative old-timers like Napier, the Roxbury, Mass., native who racked up just about every individual honor on the way to the Final Four. And relative newcomers like second-year coach Kevin Ollie, who is currently undefeated in the NCAA Tournament. Nobody else on the planet can say that.

But Ollie is no stranger to winning. He was Jim Calhoun's assistant the last time the Huskies won it all, and he was Calhoun's hand-picked replacement when the Hall of Famer decided to retire before the 2012-13 season. He's also the guy that convinced a group that was ineligible for the postseason a year ago that they had just as much right to a national title as anybody else.

"I said it in the beginning, 18 months ago when we started this process: The last is going to be the first," Ollie told CBS Sports' Jim Nantz on the court after the game. "We were last. Now we're first. But we always did it together."

These words echo what Ollie told a Gampel Pavilion back in early March when no one outside the Huskies locker room thought this team was a legit title contender.

"I'm planning to come back here in April and raise a banner," he said at the time, "presumably to a bunch of fans who were happy to cheer the sentiment but with the full understanding that there was a better chance Geno Auriemma's team would go winless the rest of the season.

Goes to show what we know, and more importantly, what the power of faith can do for a group of people. And while Ollie deserves his due, coaches coach and players play.

Which brings us back to not only Napier, who scored 22 points, grabbed six rebounds, and was named the Most Outstanding Player of the Final Four, but to the other veterans that helped cement the victory. Senior forward Niels Giffey struggled with his outside shot in recent games, but he had 10 points Monday, including two HUGE 3-pointers down the stretch that staved off a Kentucky comeback.

And Lasan Kromah, the graduate student who transferred last summer, converted two HUGE free throws late in the game to all but wrap up the win. Free throws became the Huskies' unofficial mascot during the postseason. They were 10 for 10 Monday, and 101 for 115 in the NCAA Tournament, a whopping 87.8 percent, which broke the previous record of 87 percent set by St. Johns in 1969.

In a sense, free throws are a pretty good metaphor for this group. Three-pointers and alley-oops are fun to watch, but the little things matter, too. And in the end, add up. The Huskies showed that from the charity stripe. They also outrebounded a ridiculously athletic Kentucky team, 33-32. Oh, despite the doubters, UConn never trailed in the championship game. Not once. Which brings us back to Ollie's words than a month ago.

"I have confidence in my guys," he said. "I have confidence we're going to win every game. If you don't believe it, you're never going to have anything. I came here as a coach, I believed in myself, I believed in my coaching staff. No matter what the situation was. We've got a chance, like every other team. Like 68 other teams, we've got a chance, so why not think it?"
Great question, coach.