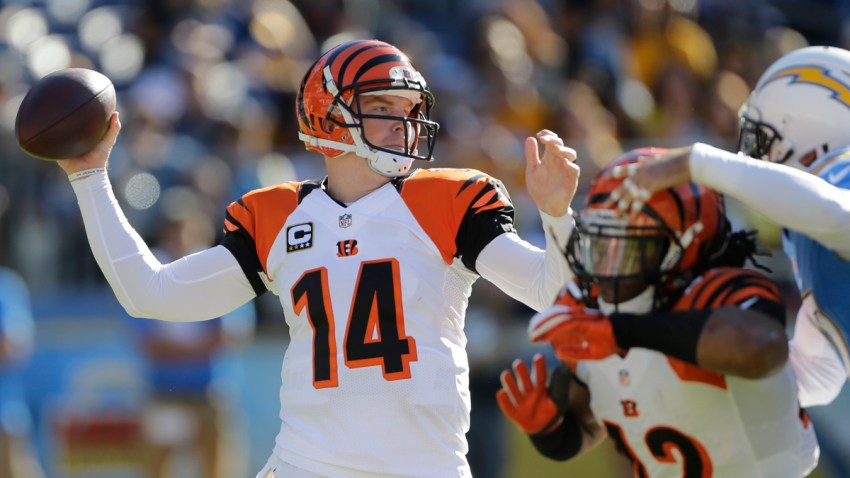 There aren't many people picking the Patriots to win on Sunday night, even though they're at home. That's because a) the Bengals are arguably the best team in the AFC and b) the Pats are struggling on both sides of the ball.

Suddenly, the Bill Belichick-Tom Brady magic appears to have worn off and this New England team looks a lot like those hapless Cincinnati outfits that struggled for so long in recent years. But now the Bengals have enjoyed three straight trips the postseason that coincide with quarterback Andy Dalton's arrival in town. Expectations are so high, in fact, that getting to the playoffs is no longer enough; winning is now expected.

But it's not just the playoffs where Cincy has struggled, they've also been far less than perfect in nationally televised games. If that theory holds, it could be good news for a Patriots team in desperate need of some. Not surprisingly, Bengals tackle Andrew Whitworth thinks such talk is overblown even though, you know, the team is 2-4 in night games since 2011 and 1-9 on Sunday night.

"If we hadn't been in the playoffs three years in a row, this probably wouldn't even be a topic of conversation," Whitworth said, via ESPN.com. "It's not a negative to be in the playoffs three times in a row. The truth of the matter is, there's some team in the playoffs every year getting beat for two teams to go to the Super Bowl. You've accomplished something to be there, and you've played a lot of obviously significant games to get there. You don't go 10-6 and 11-5 and not have won a game that meant something."

Whitworth continued: "The coolest thing about this team is that we don't care about that kind of stuff. This year is the best year I've seen of that. The guys' attitudes of that doesn't matter. We're excited to go out and have fun and play.

"That's one of those things that I think honestly is more of a national media, outside media thing to hold over us. It's like somebody wants to find some way to doubt you when the truth is, we've won our division, we've gotten better every single year, our record has gotten better every single year. So what's something you can come up with that's going to say 'this team is not there?' That's the one thing they can look for and say is that we can't play in prime-time. To me, people are always going to find a way to try and put a team down. That's what people look for. We don't really listen to it. But we just need to go out and play and have fun and beat the New England Patriots and go about our business."

If Whitworth thinks people are looking for ways to drag down the Bengals, he should listen to Boston sports radio Monday morning if the Patriots lose again.