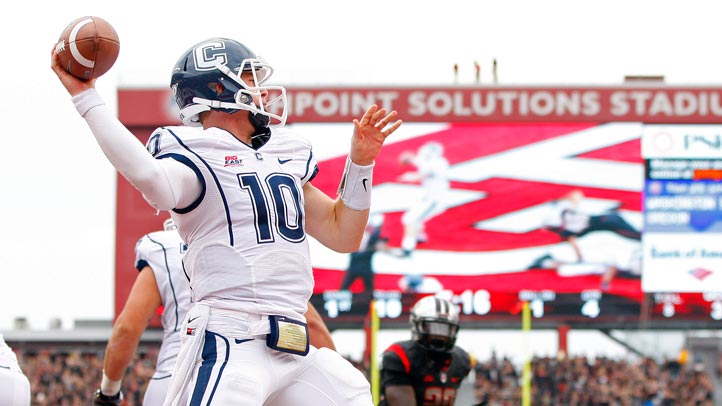 It started with the spring game. New arrival Chandler Whitmer separated himself from the four other quarterbacks and ended up winning the job early in training camp. Now, eight games into the season and the Huskies don't look much different from last year's disappointing squad. The quarterback position is clearly better than it was in 2011 but as former NFL coach Bill Parcells liked to say "you are what your record says you are."

And for UConn, that's 3-5 anyway you slice it. But the faint glimmer of a bowl berth remains, which means that if the Huskies are going to go on an improbable run it has to start Friday in Tampa against USF and Whitmer has to go from average to great.

"It's been a long season, eight games in a row or something," he said earlier this week according to the Hartford Courant. "It's nice to get the bye week, regroup a little bit. It's something I've said a lot this season, I'm just trying to stay within myself. I can't get caught up in looking down the road. South Florida is the next opponent and like we say every day, we've got to take it one day at a time. We just have to take care of business."

We've documented in great detail all that ails this offense. The suspect playcalling, the refusal to dump the Wildcat altogether, the inability to establish a running game, the inconsistencies along the offensive line and Whitmer's untimely turnovers. Put it together and you'll arrive at three wins when the Huskies could easily be 5-3.

Coach Paul Pasqualoni was happy for the bye week and thinks it'll serve his team well over the final month of the season.

"I thought last week we had a much-needed opportunity to give the kids some rest," he said via the Courant. "We played eight in a row, we had a very physical preseason. So the bye week, I think, came at a good time for us. Allowed the kids to get refreshed mentally, get a few more treatments in, stay off their legs a little bit."

We're at the point of no return -- if the Huskies can't beat USF the 2012 season is lost. Then we'll spend the next few weeks talking about "playing for pride," which is just a euphemism for "we underachieved early and are paying for it now."

If you're skeptical and looking for any good news, here ya go, courtesy of ESPN.com's Big East blog: writer Matt Fortuna likes the Huskies, 17-14. (Fortuna's colleague, Andrea Adelson, has USF winning, 24-23. So there's that. But if you're a glass-half-full type you're just happy that somebody thinks that UConn will score 23 points.)
It's not much, but UConn hasn't given us a lot to work with, either.