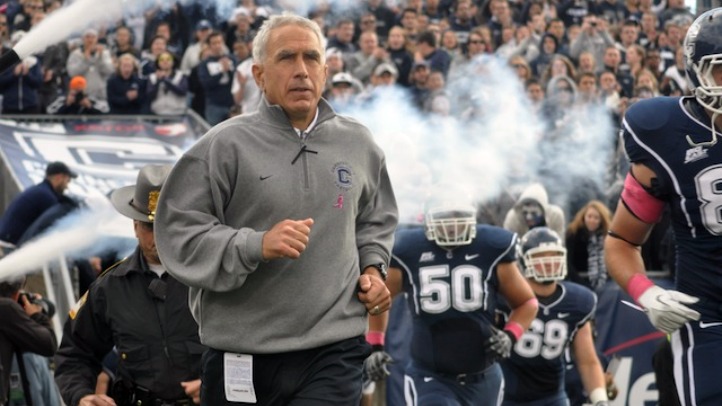 As of mid-May, coach Paul Pasqualoni didn't have a single recruit for the class of 2014. At the time, he seemed unconcerned because he had faith that UConn could find said recruits during June football camps.

"Last year 13 of the 25 players we signed were in our camp, so that's where our focus is right now," Pasqualoni told the Hartford Courant at the time. "The staff is out this week. This is the last week of being out on the road. … I think we're where we want to be in the overall evaluation process. I think we know who the top guys are in our key areas. I think we have a good handle on not only the top guys, but those players who are in the Division I prospect category. Between now and the end of June we'll try hard to get these guys on campus and work with them and be sure of what we're doing, and try to get some commitments."

Well, the staff wrapped up its first camp last weekend and Pasqualoni was pleased with how things went.

"Camp was great," Pasqualoni said via the Courant's Desmond Conner. "We had a good number of prospects here and had a chance to work with some of the guys we wanted to get on campus. We've got a series of these now we're going through. ...

"We probably had 140-150 guys to work with," the coach continued. "I think they had good experiences. The communication afterward, the Facebooking back and forth and that type of thing, has been really good. You know, this month there's a process the kids go through every year, and they have a plan. We have a plan in regards to the guys we're bringing in and so far so good."

As Conner notes, the Huskies remained shutout in the '14 recruit department, while two teams that are leaving the AAC -- Louisville for the ACC and Rutgers for the Big Ten -- are faring much better. The Cardinals have 15 recruits -- tied with Tennessee for the best in the country -- and the Scarlet Knights have 11. If it's any consolation, Syracuse (3) and Pitt (1) aren't doing much better than UConn.

Pasqualoni and his staff get back to work this weekend for the Huskies' next camp.