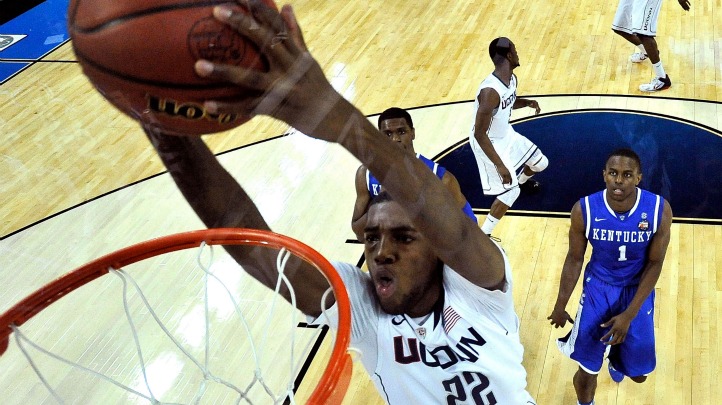 Two Friday's ago, recent UConn transfer, forward Roscoe Smith, visited UNLV. Last Friday, the Rebels confirmed that Smith will play for UNLV, the only question is when.

Smith has two years of eligibility remaining but NCAA rules require transfers to sit out a season before playing at their new school -- barring special circumstances. For example, another Huskies transfer, Alex Oriakhi, left the program this spring but will play for Missouri in 2012-13 because UConn will be ineligible for postseason play next season. And Michael Bradley, who left UConn this spring for Western Kentucky, hopes to play in '12-13 because one of the reasons he transferred was to be closer to his ailing grandmother, which is admissible under the current NCAA set up. For now, all Smith knows is that he'll suit up for the Rebs. When, exactly, is TBA.

"I do not know the answer to that question," UNLV head coach Dave Rice told the Las Vegas Review Journal. "We are going to submit a waiver to the NCAA on his behalf."

As for what the 6-8 Smith brings to the program, Rice described him as "a versatile player, a terrific defender and rebounder … he's a guy who can score from a lot of different spots on the floor."

Whether this year or next, the addition of Smith only bolsters an already strong UNLV recruiting class. UNLV most recently landed 6-8 forward Anthony Bennett of Findlay Prep, a five-star prospect (and No. 7 power forward in ESPN's rankings) who will join 6-9 Khem Birch, a Pitt transfer, and Katin Reinhardt, another ESPN top-100 recruit.

The Huskies, meanwhile, continue to try to pick up the pieces. They've had modest recruiting success but nothing like recent years. There don't appear to be any Jeremy Lambs or Andre Drummonds or Ryan Boatrights in the incoming class, but coach Jim Calhoun has vowed to leave the program in better shape than he found it. And history suggests that's exactly what'll he'll do. The biggest question: how long will it take?