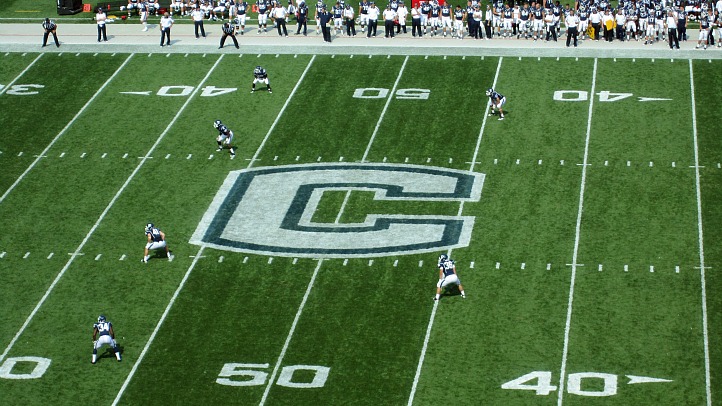 With the season opener against Towson less than two weeks away, the Huskies were in the midst of their last open practice on Saturday when tight end Sean McQuillan took a big hit from cornerback Taylor Mack, and ended up in the hospital with a concussion.

Details via the Connecticut News' Kevin Duffy:
McQuillan, the favorite to start, lay on the ground for about 10 minutes before an ambulance took him to Windham Hospital. His head and neck CT scan revealed nothing out of the ordinary, according to a team official. He returned to the Burton Football complex Saturday afternoon and will go through normal concussion protocol.

It remains to be seen how much time McQuillan, a 6-foot-4, 237-pound redshirt sophomore from Glastonbury, will miss. It could be a crucial injury for the Huskies, who are already thin at the position. True freshmen Tommy Myers and Michael Boland are likely to get reps in McQuillan's absence.
"It puts a damper on (the practice)," coach Paul Pasqualoni said after McQuillan was taken to the hospital. "I'm optimistic he'll be O.K."

On the play in question, quarterback Chandler Whitmer found McQuillan in the flat and a split-second later, Mack did too.

"When you're playing that type of coverage, (the corner) is playing the ball more than the guy," Pasqualoni said. "Often times, you don't even see the guy is what happens. You see the ball. You're going for the ball and they collide. That's always been part of (the game)."

Duffy writes that under the NCAA's "targeting" rules, such a play could be reviewed and the player could face immediate ejection.

"The issue is, with the targeting rule, they want the defensive guys to lower the target," Pasqualoni said. "So you've got to hit him lower. That's going to be a major point of emphasis early on until they get it established. I think you're going to see guys suspended."