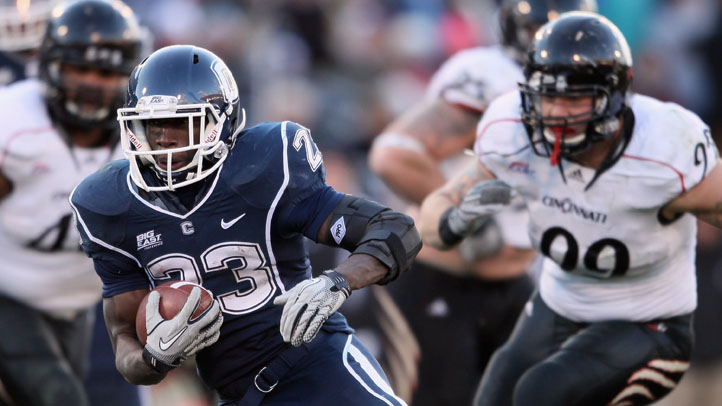 The NFL Draft begins in seven days. For a handful of former UConn players, it will be a chance to continue their football careers and this time collect a paycheck while doing it. This assumes, of course, that the owners and current players can work through their labor issues and there is an NFL season in the fall.

For now, though, Zach Hurd (G), Greg Lloyd (ILB), Scott Lutrus (OLB), Anthony Sherman (FB), Jordan Todman (RB), and Lawrence Wilson (OLB), all invited to the combine in February, have a chance to get drafted next week.

(Those who aren't drafted can sign as undrafted free agents. In past years, that would happen immediately following the draft but with the ongoing labor dispute, teams can't sign undrafted players until the collective bargaining agreement is resolved.)

Running back Jordan Todman, who declared for the draft after his junior season (he was 2010 Big East Player of the Year, racking up 1,695 rushing yards and 14 TDs), will probably be the first Huskies player selected in the draft. According to NFLDraftScout.com, Todman is the seventh-best running back in this year's class and is projected to go in the third round.

And the New England Patriots, a perennial playoff team, have shown interest in Todman. The Boston Globe reported last month that the Patriots had a private workout for Todman, and Thursday's edition makes the case for why New England might wait until later rounds to fill their running back needs.

The weeks leading up to the draft are filled with obfuscation and false information, all in an attempt by teams to mask their true intentions. The Patriots have six of the first 92 draft picks (including two first-rounders), and conventional wisdom has them taking Alabama running back Mark Ingram with the 28th selection. But concerns have arisen about Ingram's knee which could be the aforementioned obfuscation or a legitimate concern.

Either way, the Globe's Shalise Manza Young writes that "There are plenty of examples of lightly regarded running backs coming out of college becoming effective pros. Start with New England: Neither BenJarvus Green-Ellis nor Danny Woodhead was drafted. Arian Foster of the Texans, who led the NFL in rushing last year, also went undrafted."

As for Todman, Young notes that "...Todman, a Massachusetts native who led Dartmouth High to the MIAA Division 1 Super Bowl in 2007, was a workhorse for the Huskies, with 569 carries over his final two seasons — including an eye-popping 334 last year.

"Knowing that running backs have only so many carries in their legs, Todman opted to enter the draft. Given his size — he measured 5-9, 203 at the Combine — there are questions about Todman's ability to be an every-down back in the NFL, despite his durability at UConn."

If the question is size and durability, look no further than Woodhead. He's not an every-down back, but the NFL is no longer a feature-back league. For most teams it's running back by committee, and Todman certainly brings a multitude of talents to the NFL.

NFLDraftScout.com compares Todman to Brian Westbrook, who came out of Villanova with many of the same questions about his lack of size. For a 3-4 year span earlier this decade, Westbrook was one of the most versatile players in the league. If Todman's career follows Westbrook's, the team that selects him will have gotten a bargain, no matter what round he's drafted.