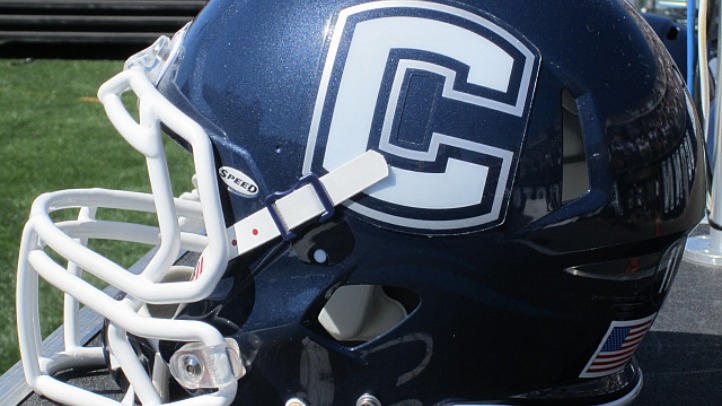 The University of Connecticut announced the 2013 schedule Tuesday and there are some noticeable omissions as well as one very big home game in the third week of the season. Gone are Syracuse and Pittsburgh, who will be full-fledged members of the ACC by the fall. In their place are names like Southern Methodist and Memphis. But on Sept. 21, the Huskies will host the Michigan Wolverines, as part of a home-and-home that began with UConn playing in Ann Arbor in 2010.

"I am very excited for the home schedule that our football team will play in 2013 and I think our fans should be too," UConn Director of Athletics Warde Manuel said in a statement made available by the school. "As I continue to say, it is important for UConn to have the Rentschler Field full for every game. Our football team will be working hard to prepare for the 2013 season and we need the support from our loyal Husky followers more than ever."

Date - Opponent (* denotes conference games)
Thurs, 8/29 - Towson
Sat, 9/14 - Maryland
Sat, 9/21 - Michigan
Sat, 9/28 - @Buffalo
Sat, 10/12 - USF*
Sat, 10/19 - @ Cincinnati*
Sat, 10/26 - @ UCF*
Fri, 11/8 - Louisville*
Sat, 11/16 - @ SMU*
Sat, 11/23 - @ Temple*
Sat, 11/30 - Rutgers*
Sat, 12/7 - Memphis*

(all times TBA)

The conference currently known as the Big East has undergone big changes in the last 18 months. In addition to the departures of Syracuse and Pitt, West Virginia headed for the Big 12 last season, Louisville and Notre Dame (non-football sports) will bolt the Big East for the ACC, too.

UConn, one of the original Big East programs, is also looking for greener conference pastures. One of the best ways to make themselves more attractive: qualify for a bowl. The Huskies have finished 5-7 in back-to-back seasons under Paul Pasqualoni.