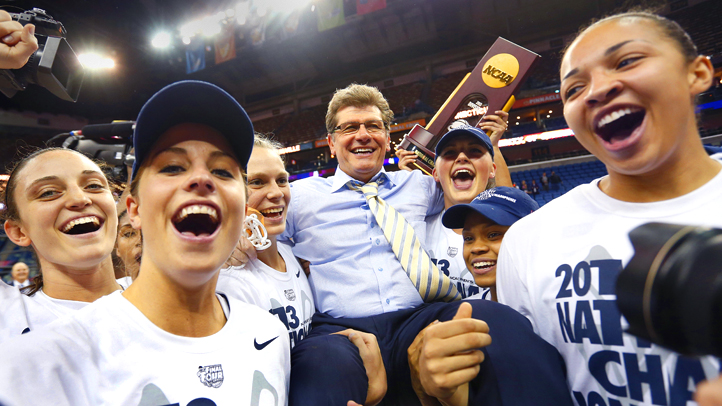 For the first time since 2010, the UConn Huskies are national champions. It's the eighth title for coach Geno Auriemma and Tuesday's 93-60 win over the upstart Louisville Cardinals was a clinical performance from a team that will lose just one starter to graduation.

The biggest fear heading into the game may have been the Huskies coming out flat after an emotional Final Four win over Notre Dame. Those fears never really materialized; Louisville led 14-10 with just under 14 minutes to go in the first half and then UConn caught fire. A 19-0 run made it 29-14 and by the break that lead was extended to 48-29.

The Cardinals cut the lead to 16 with 13 minutes to go in the second half and that was as close as they would get. The Huskies, playing their best basketball of the season, were unstoppable. If it wasn't Kaleena Mosqueda-Lewis, Breanna Stewart or Kelly Faris draining three-pointers, it was Stefanie Dolson or Morgan Tuck owning the paint.

Stewart, who arrived in Storrs last summer with lofty expectations, used the tournament as her own coming-out party. Two days after dropping 29 on Notre Dame, Stewart scored 17 points in the first half against Louisville. She finished with 23 and looks every bit the super star Auriemma promised even before Stewart played her first game.

But back in January and February, Stewart wasn't the same player we've seen the last month. She was in a funk and looked like, well, a freshman. Auriemma admitted it was something she would have to work through and she did.

"I just think I played really confident and stopped thinking," Stewart told ESPN's Rebecca Lobo after the game. "When I second-guess myself nothing good comes out of that."

And while Stewart has garnered much of the attention during the Huskies' NCAA Tournament run, the reality is that this team peaked at the right time; Mosqueda-Lewis showed why she is the best pure shooter in the game, and Faris leaves UConn as arguably one of its best defenders. Bria Hartley, who shined the role of sixth man, scored 13 points and handed out four assists in the final. Perhaps most amazing: everyone but Faris is back next season and it's reasonable to expect they will all be better.

"I just think we grew up a little bit," Auriemma said, explaining how his team morphed from a young, mistake-prone group to the well-oiled machine we saw Tuesday night. "A lot of the frustration we had -- we didn't win the regular season and we didn't win the (Big East) tournament … I think our players collectively decided to give up a little bit of themselves. I think before that we were a good team of good players. But right after that, as we talked, we became a great team. It was an amazing transformation."

For an idea of what Auriemma has accomplished, national title No. 8 moves him into second place all-time alongside Tennessee's Pat Summitt, and just two behind legendary UCLA coach John Wooden. And before Auriemma arrived at UConn, the program had never had a 20-win season, never mind an NCAA Tournament appearance. Under Auriemma, the Huskies have 24 20-win seasons, 18 30-win seasons, 26 tourney appearances, 14 Final Fours and now eight championships. Oh, and that last on, the 33-point margin of victory? It's the largest in NCAA history. Seems fitting.