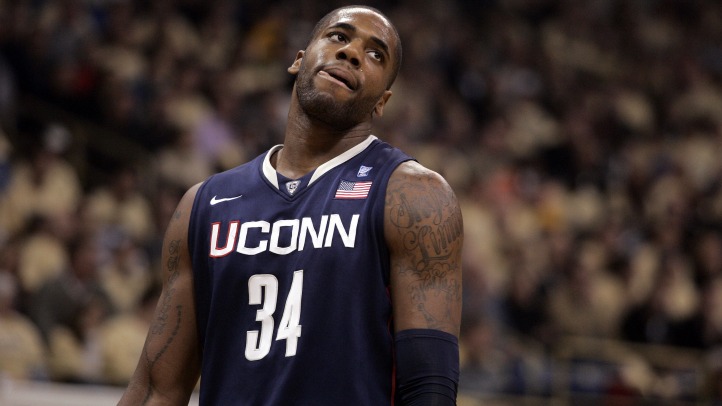 There are a lot of moving parts with this UConn men's basketball team. This is what happens when you have a veteran coach, a superstar sharpshooter, and a bunch of young players trying to figure out where they fit in. Yet through it all, the Huskies are 21-7, ranked 16th in the country and on the verge of wrapping up a first-round bye in the Big East Tournament.

Despite the successes, this team is still gelling. Early on, freshmen struggled to find their niche, although lately things seem to be coming together. Jeremy Lamb, Shabazz Napier and Roscoe Smith all had impressive outings in Sunday's win at Cincinnati. But one player who remains an enigma is sophomore center Alex Oriakhi, the team's lone inside scoring threat.

The Huskies, typically known for their toughness in the paint, will face West Virginia on Wednesday night. The Mountaineers lead the Big East in offensive rebounds and UConn head coach Jim Calhoun readily admits that more consistency from Oriakhi will go a long way for the Huskies.

"Alex might be the biggest mystery of them all -- of the frontcourt players without question," Calhoun said. "We need him to play well (against West Virginia)."

Oriakhi, who averages 10.1 points and 8.5 rebounds a game, didn't dispute Calhoun's remarks. "I heard him say I'm consistently inconsistent. … [Calhoun is] right about that. I've had some good days and I've had some horrible days. … For me, it's to get it going early … I feel if I either get a quick bucket or get a few rebounds early, I have a good game. Sometimes when I can't do either, I kind of get lost in the game."

They say that recognizing the problem is half the battle. Maybe UConn will make a conscious effort to get Oriakhi involved early because the next two regular-season games will determine if the Huskies get a first-round conference tournament bye.

"I think everybody would like to have that first day [of the Big East Tournament] at least off, if they could," Calhoun said. "I know we would. Beating a West Virginia at West Virginia would be a big step in the right direction."

Ultimately, though, it comes down to execution, something the Huskies have been much better at recently. If the freshmen continue to improve and Oriakhi can play more consistently, there's every reason to think that UConn can make some noise in the next few weeks. Because everybody knows the damage that Kemba Walker can do. Just imagine if he gets some help.