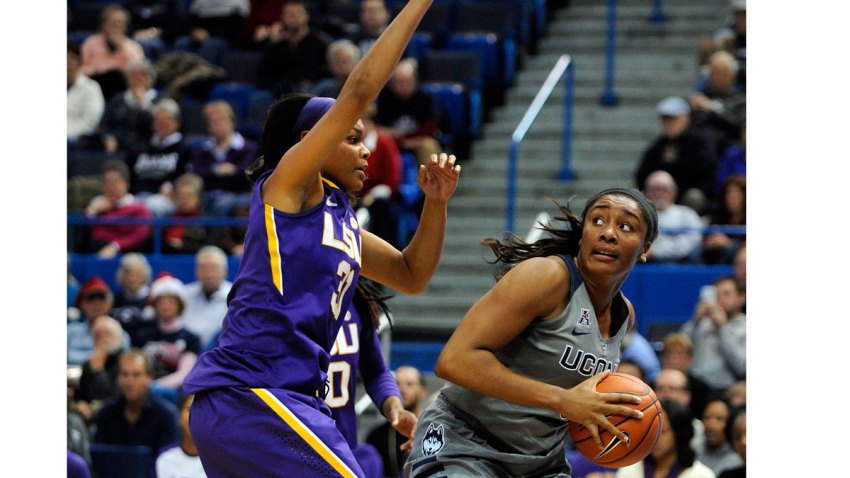 Moriah Jefferson led UConn with 17 points and the top-ranked Huskies, playing without two-time national player of the year Breanna Stewart, routed LSU 86-40 on Monday night.
Morgan Tuck and Katie Lou Samuelson each scored 14 points and Gabby Williams chipped in with 13 to help UConn to its 46th straight win.
Rina Hill led LSU (6-6) with 10 points.
UConn (9-0) outscored LSU 35-6 off turnovers, 42-12 in the paint and 24-2 on the fast break.
The Huskies put on a defensive clinic, holding the Tigers to just 16 baskets on 54 shots (29.6 percent) and forcing 28 turnovers.
Stewart sprained right her right ankle in practice last week and as a precaution did not dress for the game. She was wearing dress flats on the bench.
The 6-foot-4 senior leads the Huskies in scoring (22.9 points), rebounding (8.1) and blocked shots (27) this season. She had scored more than 20 points in six of UConn's first eight games and had played 92 consecutive games since missing the first-round of the 2013 NCAA Tournament with an ankle injury.
But the Huskies didn't need Stewart in this one. They never trailed.
Kia Nurse scored nine of her 11 points in the first quarter and UConn led 18-6 after 10 minutes.
Hill scored the first basket of the second quarter, but UConn went on an 18-2 run.
A rebound and put-back by Williams gave the Huskies their first 20-point lead with just under 6 minutes left in the first half, and the Huskies led 39-14 at intermission.
A 3-pointer by Jefferson from the left elbow pushed the lead past 30 points just 3 minutes into the second half.
The Huskies will have a week off before facing No. 6 Maryland on Dec. 28. Stewart is expected to be available for that game.
The Huskies also played without center Natalie Butler and guard Saniya Chong. Butler, a Georgetown transfer, has yet to play for the Huskies after having surgery in November to repair torn ligaments in her left thumb. Chong missed her third straight game with an IT band in her right leg.
LSU has been short-handed much of the season. The Tigers were playing without preseason All-SEC pick Raigyne Moncrief, who was averaging better than 10 points and seven rebounds a game when she was lost for the season to injury after seven games.
Sophomore Jenna Deemer came in leading LSU in scoring at 11.5 points per game but was held to just two points, missing all six of her shots from the floor.
There was one scary moment when LSU's Akilah Bethel grabbed Williams right leg and threw her to the ground as the Husky sophomore was trying for an offensive rebound in the fourth quarter. Williams was down for a while, before walking off the court. Bethel received a flagrant foul.
TIP-INS
LSU: The Tigers have only beaten UConn once in their eight meetings. That happened during the regional finals in 2007 in Fresno, California when Sylvia Fowles led the Tigers to a 73-50 upset win. A newspaper photo of Fowles blocking Tina Charles' shot hung in Charles locker for the rest of her college career to remind her of the defeat. Charles led UConn to consecutive national titles in 2009 and 2010.
UConn: The Huskies maintained their top ranking in the AP Poll on Monday and are now 351-15 when playing as the No. 1 ranked team in the nation. Their last loss came against Stanford on Nov. 17, 2014.
UP NEXT:
LSU: The Tigers return from their two-game Northeast trip to face Samford at home on Dec. 28.
UConn: The Huskies travel to New York City, where they will face No. 6 Maryland on Monday. It will be the Huskies fifth game this season against a ranked opponent.
Copyright AP - Associated Press