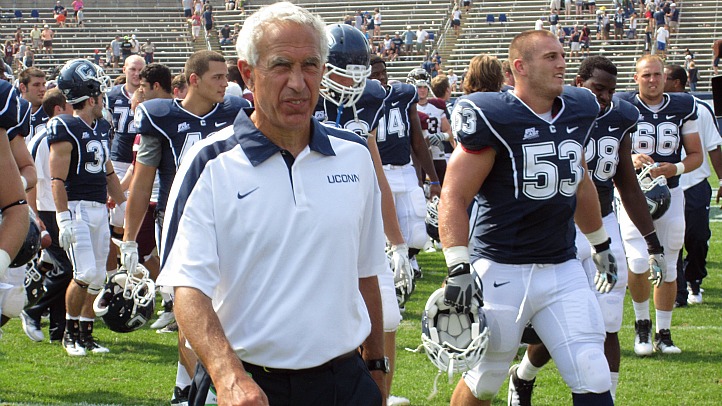 Last year at this time, the biggest question facing the Huskies football team was who would play quarterback. After months and several auditions, Johnny McEntee eventually won the gig though his first season under center can kindly be described as a rocky one. It wasn't entirely his fault; head coach Paul Pasqualoni was in his first season, as was offensive coordinator George DeLeone, plus McEntee, a former walk-on, had zero career starts before the 2011 opener against Fordham.

It was a perfect storm of inconsistency and that's exactly what the Huskies got. Now, with five quarterbacks competing for one job (including McEntee and two-time Gatorade state player of the year from Connecticut, freshman Casey Cochran), there are bigger issues. And for the offense, it starts with the five guys tasked with protecting whomever ends up as the starting quarterback.

Gone is center Moe Petrus, a freshman All-American who served as the anchor of the unit for four years. Also gone: the previous blocking philosophy. The former hurts but the latter is in everyone's long-term best interests.

"I think the main thing is DeLeone is our new line coach and he's changed up our stances, our footwork and a lot of our technique for his offensive plays," senior guard Adam Masters told the Hartford Courant's Desmond Conner. "So in a way, our technique is built for his play-calling and I would say it makes the blocks a lot easier for us now."

As Conner points out, any success UConn has offensively starts up front.

"I think we're still getting used to it," Masters said. "But it's something that practice makes perfect and I think each day we're getting better at it and in the long run will make things easier for us." And the more comfortable the players become in the scheme the more they trust it, which in turn leads to more big plays. That much is obvious, even from the perspective of March.

"I think we're going to be better finishing plays," said junior guard Steve Greene. "If you watch the film from last year we're so close to busting so many plays. A 20-yard gain could have been an 80-yard touchdown. I think that's one of the things we're realizing, too, but It's knowing the philosophy and the scheme. If we would have done that last year … that's what I mean about finishing the play."

Now all the Huskies have to do is find that quarterback.