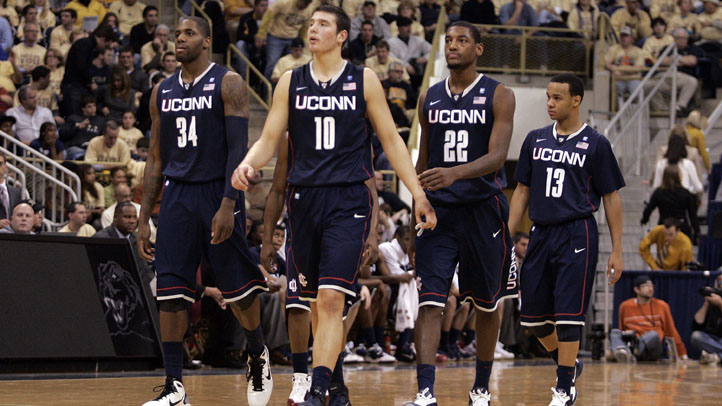 The Huskies' upcoming three-game stretch, which coincides with the start of Big East play and Jim Calhoun's three-game suspension, includes games against USF, St. John's and Seton Hall. Not exactly the murderer's row of conference competition -- the the first two opponents are a combined 13-11, and the 11-1 Pirates have yet to beat a quality opponent.

Still, it's the Big East, and there are no gimme wins. Particularly when the ninth-ranked Huskies will be without Calhoun. Longtime assistant George Blaney will serve as the interim coach until Calhoun returns to the bench on January 7 when UConn faces Rutgers.

For now, though, South Florida is the first order of business. And while UCF isn't, say, Syracuse, Louisville or Pitt in terms of its basketball pedigree, Tampa, where USF plays, has given the Huskies plenty of problems.

"We need to be ready, big time," said Blaney via the Hartford Courant's Dom Amore. "We went to overtime with them last year. South Florida is really good. They really have excellent players, guys who can score inside, pop out and score outside. They have a number of good 'swing'-type athletes, and they're vastly improved from last year."

The St. Pete Times Forum, where UConn will face USF Wednesday night, is also the scene of the Huskies' loss to San Diego during the 2008 NCAA Tournament. And while UConn is 8-1 all-time against South Florida, the wins haven't come easy. The previous two wins required overtime, and the Huskies lost in Tampa in March 2010.

"We've always played UConn very tough throughout the years," USF coach Stan Heath said earlier this week via the Courant, "and they're definitely one of the top programs in the country. It's great for us to be able to play them at home. We need to continue to improve and play better, but everybody is going to have to step up. We're going to need to play very well and hopefully playing at home will be an extra boost for us."

"The Big East is a grind, and you have to get that message across to the newer players who haven't been through it yet," Heath said. "Every game is a war. Preparation is key because most of the games are decided in the last two or three minutes. You have to execute, you have to defend and you have to show great toughness if you want to win these type of games. UConn is typical UConn, so it's another challenge.''

Augustus Gilchrist, a 6-10 senior forward, is one of USF's best players and he worries Blaney most.

"We're going to come out hard, play with some energy and try to get this win,'' Gilchrist said according to the Tampa Tribune. "We've got a chance to put this team on the map. How big would it be? Real big.'' Gilchrist's presence means that the Huskies will need good games from their frontcourt trio: freshman Andre Drummond, sophomore Tyler Olander and Junior Alex Oriakhi.

"I like the way Alex, Andre and Tyler are playing now," Blaney said, "They're feeling it. We may have to show some of Roscoe at [power] forward if one of their big guys is putting it on the floor pretty good. We'll need a good effort from Alex, rebounding and on the defense end."