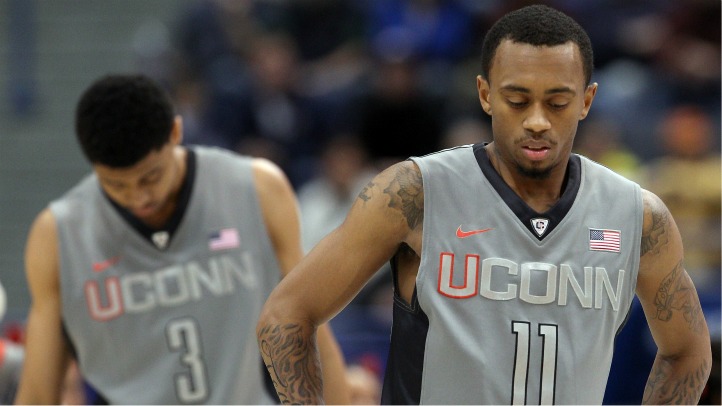 Not good. Not good at all. Heading into Saturday's game, a game the Huskies had to win, there were no delusions that Marquette would roll over. Instead, the scrappy team from Milwaukee out-everything'd UConn. By the time it was over, the Huskies had lost again, this time 79-64, and had no answers for what more than 16,000 fans had to endure at the XL Center.

"Their speed and strength almost blew our doors off," associated head coach George Blaney said according to the Hartford Courant. "We worked on it for two days, picking the ball up quickly and getting back, but their big [guys] continued to beat our guys down the court."

This season has been a confluence of chaos; coach Jim Calhoun has missed time because of an NCAA suspension and later serious back issues. On paper, the team is virtually unchanged from a year ago but the biggest difference -- Kemba Walker -- was apparently too much to overcome despite one of the country's best recruiting classes and the emerging talents of Jeremy Lamb and Shabazz Napier. The Huskies are now 16-10 (6-8 in the Big East), and there really are no excuses left for the way they're playing, especially when you hear post-game comments like this:

"It looked like we just gave up at the end," said Napier. "It's tough to say that, because we're a great team. I never thought that would come out of my mouth."

It's seldom you see the words "great team" in the same sentence with "gave up." Maybe that's the problem: we were all duped into thinking that the Huskies were a great team based on the last 11 games of the 2011 season, when they rolled through the conference tournament and later the NCAA.
Prior to that, they were a middle-of-the-road Big East team trying to win down the stretch in the regular season to earn a conference tourney bye. It didn't happen. Normally, that would mean an early exit in the Big East Tourney and a middling seed in the NCAAs. Instead, UConn got hot at the right time and outperformed everyone's expectations, including their own.

What we're seeing now isn't an aberration; that was last year's 11-game winning streak to the national title. What we're seeing now are the Huskies: a team long on talent, short on experience and in search of a leader.

It certainly explains the ten losses, eight coming in the Big East, and why the Huskies are currently a bubble team.

"Coach Miller says we're fighting for our lives," big man Alex Oriakhi said. "We're fighting to make the tournament. ... We've got to keep fighting. We put ourselves in a hole and we've got to dig ourselves out of it."

It's a recurring theme. And instead of pretending to be surprised every time it happens, maybe that's what these Huskies are. Preconceived notions aside, the reality is this: the Huskies have to beat Villanova.