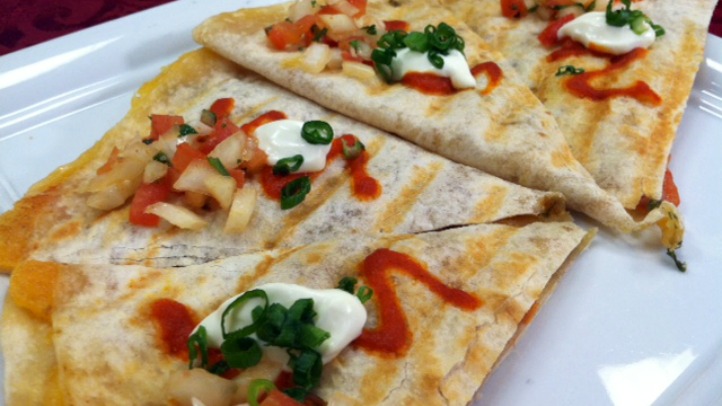 Spicy Chicken Quesadilla
2 – 4 ounce chicken breast
1 teaspoon oil
½ teaspoon kosher salt
½ teaspoon chili powder
½ teaspoon onion powder
¼ teaspoon cayenne pepper
½ teaspoon dry oregano
½ teaspoon paprika
½ teaspoon sugar
6 flour tortillas 10 inch-burrito size
2 cups shredded cheddar cheese
4 scallions chopped
½ teaspoon kosher salt
Pre heat George Forman grill. Toss chicken breast in the oil, kosher salt, chili powder, onion powder, cayenne pepper, oregano, paprika, and sugar.
Place in grill and close lid grill for 4-5 minutes or until chicken is cooked through. Remove and let cool slightly and chop into ½ inch strips.
Lay the tortillas on a clean work surface and divide the shredded cheddar over half of the six tortillas. Then spread the chicken evenly on top of the cheese with the chopped scallions. Sprinkle with kosher salt and fold over.
Then one by one place on the grill with the folded side towards the opening. Close the lid and grill for about 3 minutes or until crisp. Cut into quarters and repeat with the rest. Serve with sour cream and your favorite salsa.