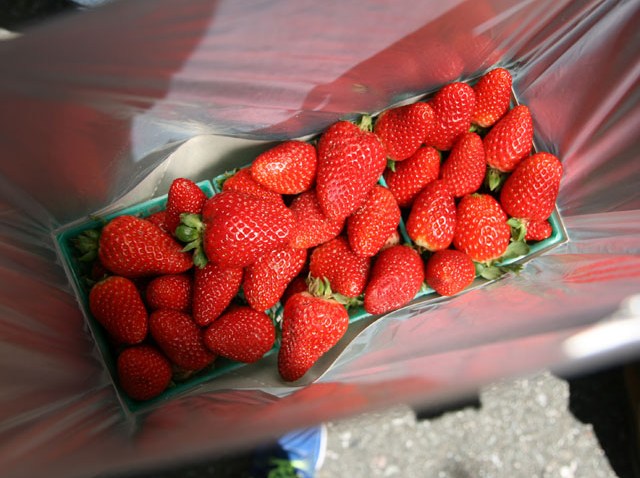 Serves four
For chocolate mousse and fruit filling:
1 cup heavy cream
4 oz. semi-sweet or bittersweet chocolate-chopped fine
8 each strawberries, washed, green top removed and sliced thin
Taste Of Today
Bring heavy cream to a boil, remove from heat. Add chopped chocolate and stir until melted and smooth. Cool thoroughly in refrigerator. When well chilled, whip using a hand mixer or whisk until a medium-stiff whipped cream consistency. Transfer to a pastry bag (optional) and reserve for assembling napoleons. If a white chocolate mousse is desired, increase the chocolate amount to 6 oz. Follow same procedure. Reserve sliced strawberries for assembly.

For crisp Phyllo dough layers:

¼ cup cocoa powder, optional ingredient if plain Phyllo is desired
½ cup melted butter
3 each Phyllo dough leaves, thawed
½ cup sugar
Sift the cocoa powder into a bowl and gradually pour in the melted butter while whisking to make smooth. Lay one sheet of thawed Phyllo dough onto work surface with the 12-inch side closest to you and the 16-inch away from you. Keep the other sheets of dough covered with a double thick sheet of plastic wrap to prevent from drying out. Brush a thin coating of melted butter and cocoa powder over the left half of the dough. Sprinkle sugar over the buttered half. Fold the unbuttered half over onto the buttered half to make an 6"wide x16" deep strip.. Butter the left half of the surface again ,sprinkle with sugar and fold the unbuttered half over onto the buttered half to make a 3" wide x 16" deep piece of dough. Cut this into 5 3-by-3 squares, discard the extra inch or bake. Sprinkle these small squares with sugar and transfer gently onto sheet pan. Bake at 400 degrees F for about 5 minutes until crisp. Cool.

For assembly:

Lay out three of the baked squares, pipe half of the filling onto all three. Arrange sliced strawberries over, pressing down to secure. Top each with another baked Phyllo square and pipe the other half of the filling over the three squares. Top with the sliced strawberries. Top with the remaining baked Phyllo layer and garnish the tops with sifted confectioners' sugar or cocoa powder. Enjoy!