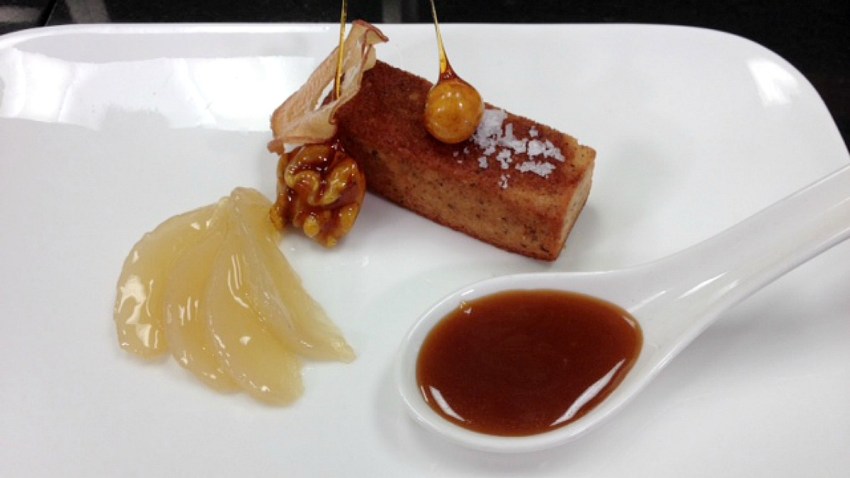 Cake ingredients:
120 grams/4.2 oz. unsalted butter
220 grams/7.8 oz. confectioner's sugar
90 grams/3.2 oz. all-purpose flour
80 grams/2.82 oz. almond or hazelnut fluour
2 grams/0.07 oz. baking powder
20 grams/0.7 oz. honey
3 grams/0.1 oz. vanilla extract
200 grams/7 oz. egg whites
1 gram/0.03 oz. cream of tartar
Directions:
Scale the butter in a pot and heat over medium heat it becomes light golden brown and has a nutty aroma (beurre noisette). Reserve.
Scale the dry ingredients together in a kitchen aid bowl. Sift the dry ingredients together, adding back any of the nut flour that didn't go through the sieve. Place back in the bowl.
Mix with a paddle while adding the honey and vanilla extract, until smooth. Scrape down often.
Whip the egg whites and cream of tartar to a soft-medium peak. Do not overwhip.
Fold about 1/3 of the egg whites into the batter to lighten, using a whisk. Fold the remaining whites into the batter.
Stir a small amount of the batter into the beurre noisette until smooth. Add the butter/batter combination to the cake batter and fold in. Do not deflate the batter.
Pan into the molds 2/3's full and bake 5 minutes at 390ºF, then finish at 320ºF until done.
Caramel sauce ingredients:
500 grams/18 oz. granulated sugar
125 grams/4.5 oz. water
7 grams/0.25 oz. lemon juice
375 grams/13 oz. heavy cream, heated
Calvados or Poire William to taste
Heavy cream as needed to thin
Directions:
Combine the sugar, water, and lemon juice in a heavy bottom pot. Stir with a small spoon just to combine. Cook covered tightly over medium high heat until boiling. Remove cover and let cook until a medium golden brown. Remove from the heat and let cool briefly.
Gradually whisk the hot heavy cream into the caramel. Bring back to a simmer to dissolve all the sugar.
Flavor to taste with the apple brandy, and add more heavy cream if needed to thin sauce. Keep in mind, sauce will get thicker when cooled fully.
Normal 0 false false false EN-US X-NONE X-NONE /* Style Definitions */ table.MsoNormalTable {mso-style-name:"Table Normal"; mso-tstyle-rowband-size:0; mso-tstyle-colband-size:0; mso-style-noshow:yes; mso-style-priority:99; mso-style-parent:""; mso-padding-alt:0in 5.4pt 0in 5.4pt; mso-para-margin:0in; mso-para-margin-bottom:.0001pt; mso-pagination:widow-orphan; font-size:10.0pt; font-family:"Century Gothic","sans-serif";} Lincoln Culinary Institute's Web site: www.lincolnculinary.com