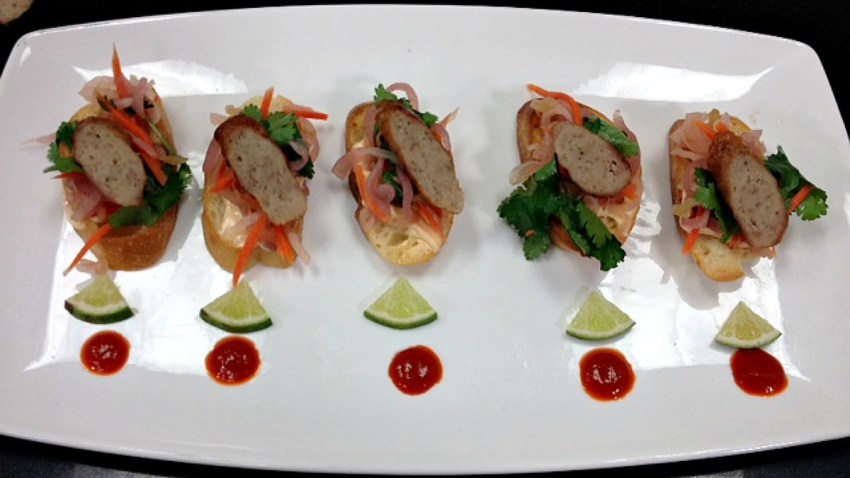 Ingredients:
½ cup red onions - sliced very thinly
½ cup radish - shredded finely
½ cup cucumber - shredded finely
½ cup carrots - shredded finely
2 Tbsp. salt
2 Tbsp. sugar
½ cup rice vinegar
24 French bread slices - cut about 1/3" thick
As needed, vegetable spray
¾ cup mayonnaise
3 Tbsp. Sriracha sauce - or added to taste
1 bunch cilantro - leaves removed from stem
24 slices cooked sausage - any favorite variety, warmed in oven
Directions:
Place the red onions, radish, cucumber, and carrots in a bowl. Toss with the salt and sugar. Let marinate for about 20 minutes or until wilted and the liquid is coming out. Drain and rinse, drain, and pat dry. Place in a small bowl or jar and add the vinegar, enough to cover. Keep vegetables submerged in the vinegar. Let marinate at least 30 minutes before using in the sandwich.
Preheat oven to 400°f. Lay French bread slices out on a cookie sheet. Spray both sides with the vegetable spray, season the tops to taste with salt and pepper. Bake in the oven for about 6 minutes or until moderately crisp and light golden. Let cool. While the oven is hot, heat up your sausage.
Prepare the mayonnaise by mixing together the mayonnaise and Sriracha. Season to taste with salt, pepper, and sugar if desired. Reserve.
Drain the pickled vegetables, and pat dry gently. Gently toss in about half of the cilantro leaves. Reserve remaining leaves for garnish. To assemble, top each bread slice with 1 tsp. of the mayonnaise. Top each bread slice with some of pickled vegetables. Top each bread slice with one thin slice of sausage. Garnish each with a squirt of the Sriracha mayonnaise and top with a cilantro leaf. Enjoy!
Lincoln Culinary Institute's Website: www.lincolnculinary.com