The warmer than normal temperatures continue today as we climb into the 40s under clearing skies.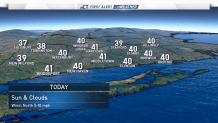 Slighty cooler temperatures arrive overnight and we'll wake up in the teens and low 20s Thursday morning with high temperatures that will climb into the mid to upper 30s.
Sunshine and dry weather sticks around and we don't bring in our next chance for precipitation until the weekend. It is looking cloudy but dry for now, but a storm will be sitting just off shore and a track farther west could mean rain.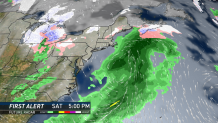 Our team of First Alert Meteorologists will continue to track the potential weekend impacts.