After four days of temperatures nearing 100 degrees, Thursday's temps were much lower across Connecticut, and the evening hours will bring rainy periods with a chance of isolated thunderstorms.
Some of the storms could bring heavy rain and strong winds, and some minor street flooding is possible.
High temperatures reached about 80 degrees. The humidity will still stick around Thursday, but won't cause the potentially dangerous "feels-like" temps we experienced over the past few days.
Temperatures will be in the 60s Thursday night with scattered showers possible Friday.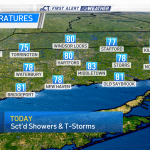 Temperatures will take a nose dive Friday, with highs in the 70s and scattered showers around.
Weather Stories
By Saturday, high temperatures are only expected to be 65 to 72 with a chilly rain.
We will see brighter skies and temperatures will rebound Sunday and Monday.