Parts of Connecticut could get two to three inches of snow Monday night into Tuesday morning.
Rain will start during the night and it'll transition to snow by Tuesday morning in higher elevations and those locations that typically run cooler.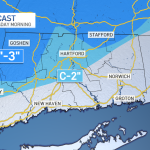 The best chance for snow is in the Northwest hills. Some folks in the quiet corner of the state may see some flakes, as well.
The snow is expected to change over to rain Tuesday, so any snow won't last long.