A quick-hitting round of snow will bring the potential for a bit of accumulation tonight night into tomorrow morning.
The snow is expected to begin sometime after dark tonight as a storm moves off the Mid-Atlantic and out to sea south of Connecticut.
The storm will move close enough to clip areas of the state, bringing anywhere from a coating to about an inch, with the greatest chance for accumulation in southeastern Connecticut by sunrise tomorrow.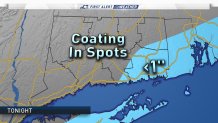 Temperatures will dip on Wednesday night and Thursday before they begin to climb towards the end of the week.