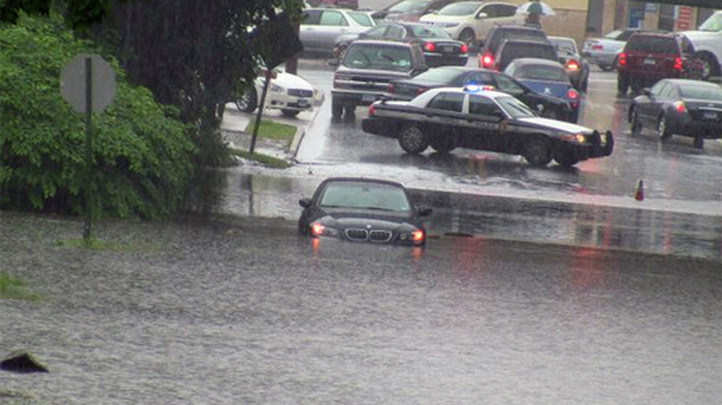 Strong storms are causing traffic problems across the state and a flash flood warning is in effect for Fairfield, Middlesex and New Haven counties. A flash flood watch is in effect for Litchfield County.
The most tragic issue is a fatal crash on the Merritt Parkway, where a tree fell on a car, killing the driver.
In Madison, a driver was injured when a tree came down onto a truck on the Hammonasset Connector.
Weather Stories
At the height of the storm in the southern part of the state, United Illuminating reported more than 20,000 power outages, including 91 percent of Ansonia and 67 percent of Derby. By 2 p.m.,most of the power was restored to Ansonia and there are just shy of 12,000 outages.
The Town of Stratford has closed all its beaches for Thursday and Friday because of heavy rainfall and runoff.
Storms flooded at least part of Medifleet in West Haven, a company that makes deliveries to hospitals, laboratories and other medical-related institutions, one employee said through Twitter.
The Connecticut Post reports that the exit 24 off ramp of I-95 south is closed in Fairfield because of flooding.
You can watch the interactive radar from our weather page.