It's been an unusually warm winter but most people don't realize we've had almost average snowfall across the state. Not surprisingly the next 48 hours will follow that trend with near record warmth Wednesday and a snowstorm on Thursday.
Evening Forecast for February 7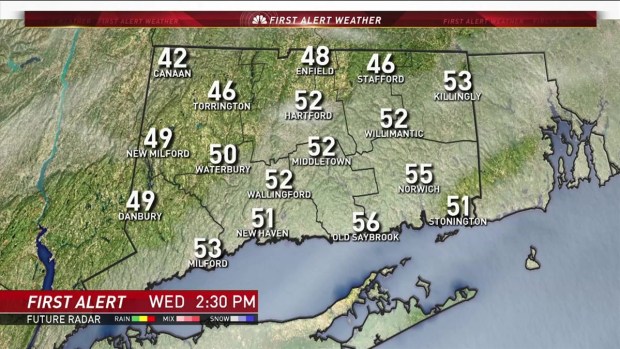 Our current thinking is that we'll have a sizable snowstorm Thursday across all of southern New England. The worst of the weather will be between 7 a.m. and 2 p.m. Thursday with a pretty impressive blitz of snow - possibly on the order of 1"-2" per hour.
Right now we've kept the range fairly large as we'd like a few more computer model runs to get a handle on a more stable solution. Also, it's not clear which part of Connecticut is most likely to see banding of heavy snow develop - is it along the shoreline or farther north? Right now we don't know. What we do know is that the odds of a significant snowstorm have increased quite a bit today. The 21 member GFS ensemble shows all members producing over 3" of snow with most over 6" in Hartford. These are also calculated using a 10:1 snow:liquid ratio which is likely to be a bit on the low side with 12:1 or 14:1 more common.
One thing we're looking at is a band of very heavy snow Thursday morning. This is a time-height cross section of the NAM model which shows an area of very strong lift at temperature of -15C way above our heads in the clouds. This is critical as this is the temperature at which snowflakes grow the most efficiently AND the favored type of crystal is a dendrite which tends to pile up rapidly. This can increase the snow:liquid ratio. Where this overlap between lift and the -15C temperature level occurs very heavy snow is likely.
While we can't rule out more than a foot of snow in some spots I think our upper bound of 12" works for now (I know other outlets are talking about 18" of snow). Here's why...
Storm is a quick mover - heavy snow will only last 4-6 hours across most of the state.
The storm's track is still awfully far south of New England - most of our computer models have it passing underneath the 40N/70W "benchmark".
A subtle shift to the south could reduce totals overall - this is a possibility.
There's no closed 700mb or mid level low which tends to be a feature in almost all classic New England snowstorm - this storm has a broad area of strong convergence and frontogensis at 700mb but no rapidly closing or closed low.
The 51 member European Ensemble has 0 members that produce over a foot of snow in Connecticut.
The bottom line is that this storm continues to look significant. There is still a chance a small shift in the storm south could result in less snow but at this point we feel pretty confident in the 6"-12" forecast. All of this winds down by Thursday afternoon. Happy shoveling!