Meryl Streep is famous for creating award-winning drama on the silver screen, but now that drama is seeping into her closet.
With just days until the 2017 Oscars, where Streep will be a 20th time nominee, the actress allegedly left one gown by the wayside because of money, according to Chanel creative director Karl Lagerfeld.
Meryl Streep Rebukes Trump at Golden Globes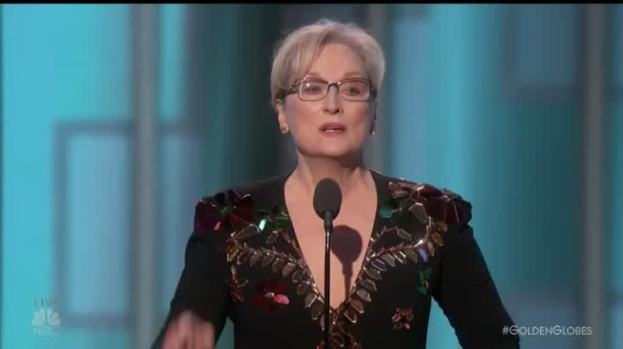 As the designer's version of the story goes, Streep had her eye on an embroidered gray silk gown from Lagerfeld's most recent collection for Chanel and planned to wear it for Sunday's ceremony. However, she asked that the dress' neckline be higher, so the Chanel camp got to work--but not for long.
"I made a sketch, and we started to make the dress," Lagerfeld told WWD.
Days later, someone from Streep's team allegedly rang. "'Don't continue the dress. We found somebody who will pay us,'" Lagerfeld described the phone call to the magazine.
While Streep has sported Lanvin gowns to the Academy Awards in recent years, Lagerfeld blamed the brand's unwillingness to pay the star for her last-minute change.
"After we gift her a dress that's 100,000 euros [$105,000], we found later we had to pay [for her to wear it]," he told WWD. "We give them dresses, we make the dresses, but we don't pay."
"A genius actress, but cheapness also, no?" he added to the magazine.
Considering the extreme publicity the Oscar red carpet affords, it has become increasingly common for actresses to get paid to wear any element of their award look.
Still, Streep's rep denies that money was the culprit, telling The Hollywood Reporter the "statement is absolutely false, and that it is against [Streep's] personal ethics to be paid to wear a gown on the red carpet."
© Copyright E! Online