What a difference a year makes.
Just a year after the #OscarSoWhite controversy that enveloped the Academy Awards, 2017 saw a slate of not only diverse actors being nominated, but diverse stories as well.
89th Academy Awards: And the Nominees Are...
Among the actors and actresses receiving nominations Tuesday were Denzel Washington for "Fences," Dev Patel for "Lion," Mahershala Ali for "Moonlight," Viola Davis for "Fences," Octavia Spencer for "Hidden Figures," Naomi Harris for "Moonlight," and Ruth Negga for "Loving." Three of the women in the best supporting actress category are women of color.
Congratulations @octaviaspencer! https://t.co/wE0mhQmtzm

— Kevin Costner & MW (@modernwest) January 24, 2017
congratulations to all oscar nominees esp @ava#EmmaStone@violadavis@theodoremelfi#teamHiddenFigures#barryJenkins#DevPatel#Denzel

— octavia spencer (@octaviaspencer) January 24, 2017
It's an important time to make history. ✨#OscarNoms#BlackGirlMagicpic.twitter.com/RiTwYCWbou

— Chirlane McCray (@NYCFirstLady) January 24, 2017
OMGGGG 🎉🎉🎉🎉 https://t.co/NNiZ5Y7OWE

— Naomie Harris (@NaomieHarris) January 24, 2017
Mood 😂 pic.twitter.com/zeSNQxHre4

— Naomie Harris (@NaomieHarris) January 24, 2017
Yet perhaps even more telling is the "Adapted Screenplay" category. Four of the five nominees, "Fences," "Hidden Figures, " "Lion, " and "Moonlight" primarily feature diverse casts.
Into the Light: 'Hidden Figures' Cast Discusses Film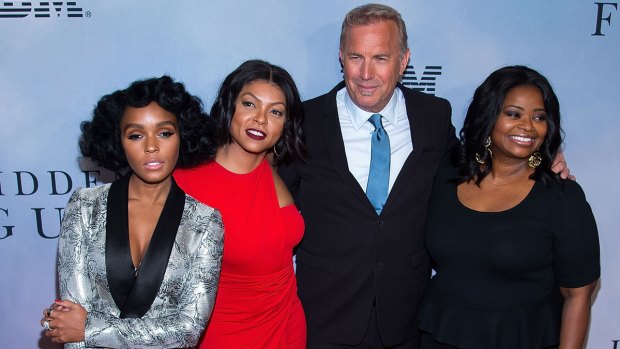 The nominations were seen as a test for the revamped film academy. Following two consecutive years without diverse nominees in any of the major acting categories the Oscars, academy president Cheryl Boone Isaacs ushered in new membership rules and added 683 new members as a way to diversify a predominantly white, male and elderly group. The academy now numbers 6,687 people.