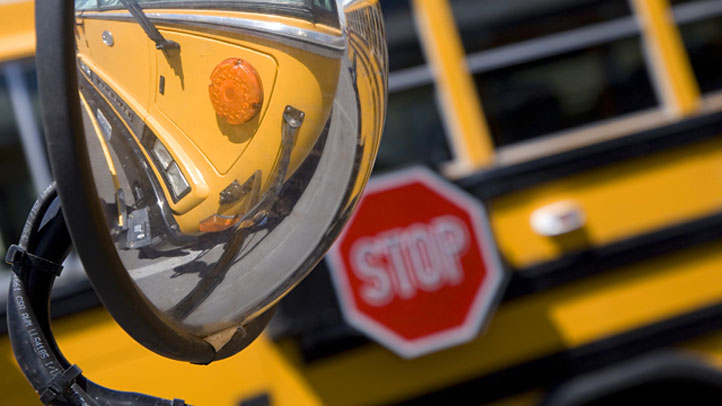 Time and time again, drivers pass school bus stop signs while children are getting on and off the bus and one Connecticut mom says it has to stop.
Lisa Flynn's son Kyle has cerebral palsy and she worries someone will hit the bus while the driver has him on the lift.
"My biggest concern is that he can't help himself. I feel like it's somewhat out of my control and that's why I'm doing everything in my power to rectify the situation," Flynn said.
In Kyle case, drivers are breaking the law right outside his middle school at dismissal time. NBC Connecticut witnessed it first hand and caught one driver zipping by the school bus stop sign the first afternoon our cameras were out at Silas Deane Middle School in Wethersfield.
Drivers who are caught are fined $465, but Flynn said, many times the lawbreakers are not caught.
"The principal assures me that he is out in front of the school at dismissal time and arrival time with his staff. I'm not sure doing what. It's still continuing to happen. They haven't solved the problem," Flynn said.
Steven Cook, principal of Silas Deane Middle School, said he's aware of the problem, but it's only happened four times since the start of the school year.
He has had police at the school several times, but police said they've only issued one ticket this year.
"I wouldn't say it's an issue because it hasn't happened so frequently that we are in panic mode," Cook said.
But just 20 minutes after our interview with Cook, our cameras caught another car blowing right by the school bus stop signs with Cook himself standing just feet away. He flagged the driver and alerted her of the law.
"There aren't too many things we can do as a school other than to inform the Wethersfield Police Department when we are aware of them," Cook said.
But in this case, NBC Connecticut learned Cook did not call and report the driver to police. He maintains his job is to inform parents of the law and said, in this case, he did just that.
In September, he posted a warning on the school's online bulletin and sent out a phone message alerting parents to the problem, but Flynn said it's still happening and something more needs to be done and quickly.
"I feel like no one has really owned up to whose responsibility it is. They keep passing the buck. Somebody needs to step up to the plate and take responsibility for our children," Flynn said.
In Torrington, educators are doing just that.
The board of education recently outfitted eight buses with cameras that begin rolling when the bus stops and record when the stop signs deploy. Photos of the violator's license plate are then sent to the police department. Police said they issued more than two dozen tickets in the first month of use.
The city splits the fine with the software company that owns the cameras, meaning there's no cost to taxpayers.
"Even in tough budgetary times, it shows we can implement additional strategies to help protect the safety of our children," said Susan Domanico, assistant superintendent of Torrington schools.
Flynn said Wethersfield needs to do the same thing and vows to do everything in her power to keep Kyle and his classmates as safe as possible.
"I'm sure that if it was their child, they would be doing the same exact thing that I am doing. I'm trying to find out exactly whose responsibility it is to ensure the safety of our children," Flynn said.