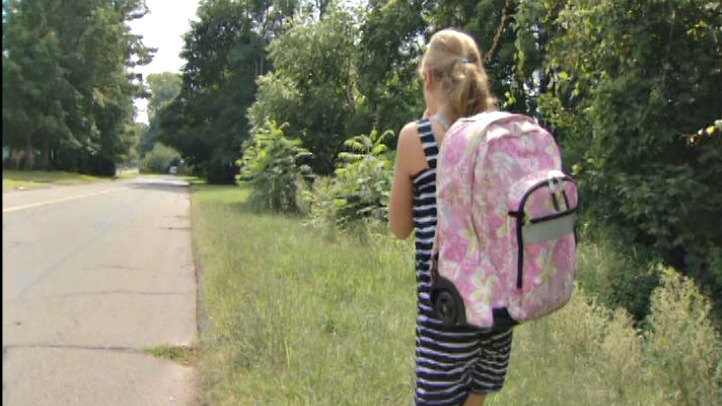 A Newington parent's concern over his daughter's school district not transporting her to school by bus has led to a bigger question: how far is too far when it comes to kids walking to school?
Bob Rybczk said he recently found out his daughter, Rachel, was not eligible for bus transportation. The family lives roughly 1.1 miles from Martin Kellogg Middle School, where Rachel is beginning fifth grade.
Newington Public Schools will not transport Rachel because the family's home is just shy of the maximum walking distance set for middle schoolers: 1.25 miles.
"Back in the 50s and 60s that was fine. Nowadays, that's too long of a walk for someone that young," Rybczk said.
School districts set their own maximum walking distances. Fifth graders in nearby Hartford, West Hartford and Waterbury public schools have a maximum walking distance of one mile. However, fifth graders in those districts are not considered middle schoolers.
Rybczk said his work schedule would sometimes prevent him from driving his daughter to school. He also said a walking route to the closest bus stop is lacking sidewalks.
A portion of the route Rachel would walk during the 1.1 mile trek to school is also without sidewalks.
"This is a major road," Rybczyk said. "Things disappear off this road all the time. I don't want my daughter to disappear."
Rybczyk is not the only concerned parent in the neighborhood.
"These kids are by themselves walking down Main Street and it's a little un-nerving," parent Joanne Sullivan said. "As a mother I would not let my child walk to school."
NBC Connecticut and the Troubleshooters asked Facebook followers to weigh-in on the issue. More than 100 followers responded after we asked if 1.1 miles is too far for a nine-year-old to walk to school, considering a portion of the route has no sidewalks.
An overwhelming majority of respondents wrote "yes". However, some wrote they walked farther at that age with no problems.
Newington's superintendent Dr. William Collins said the district takes all concerns seriously and will review Rybczyk's case as quickly as possible. However, Collins also said lowering the district's walking distance for middle schoolers could result in half a million dollars in added transportation costs.
But try telling that to some parents.
"There are other children in this neighborhood that probably would want to use this bus, as well, it makes me think they don't care about it that," Rybczk said. "Money's the first thing."