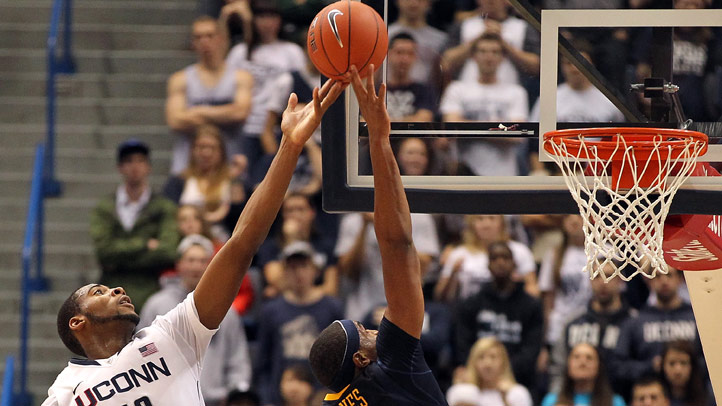 It's an understatement to say that Jim Calhoun is unhappy with the recent play of his big men. The relationship between coach and frontcourt is a tenuous one as evidenced by Wednesday's loss to Cincinnati that, ironically, came on a last-second three-pointer.

Even though the Huskies out-rebounded the Bearcats, 41-32, it wasn't enough to make up for the fact that Alex Oriakhi and Andre Drummond accounted for six measly points, one block and three turnovers. Calhoun was so frustrated that he even suggested playing walk-on freshman guard Brendan Allen might've been more beneficial.

"Maybe I should have played Allen more minutes," he said after the game. "At least he had the guts to go to the basket, and didn't look like he was going to fumble the ball."

Calhoun's remarks are rooted in equal part frustration and motivation. And with Syracuse, Georgetown, Marquette and Louisville on the schedule next month, UConn needs to fix this.

"Andre Drummond, after three double-doubles in a row, just did not have a good game," Calhoun said on the Big East's weekly conference call Thursday according to the Hartford Courant. "Nor did Alex. We're still [one of the] youngest teams in the country. Although I keep telling the kids, there is no young team any longer, not with 12 games left to play. We lacked a little something that, quite frankly, Cincinnati had."

Before the Huskies dive back into their Big East schedule, they'll travel to Tennessee to face the Volunteers this weekend. Calhoun previewed the matchup on Thursday.

"They're still very athletic, they're still very dangerous. I don't know that they're totally different," he said. "Clearly, I have no doubt that they're a team on the rise. … I think that taking over a program is always difficult. Bruce [Pearl] was very, very successful there. I don't have any doubt that [Cuonzo Martin] will get them going. I always really liked [Cuonzo]. I think he's done a tremendous job there and I just think it's matter of time… they have too many good players not to be good in the future. I just think it's difficult for them. You watch the Kentucky game, the Georgia overtime…you watch game. They were right there with everybody they played."

The will air nationally on CBS this Saturday at 4 p.m. ET.