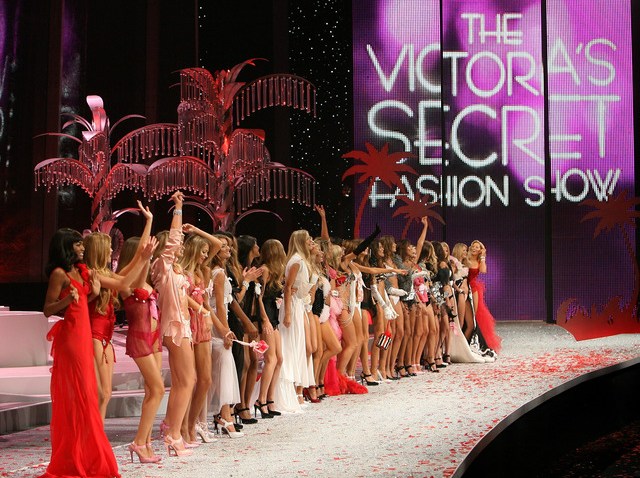 CALLING ALL ANGELS: We got to hang out with the very beautiful Miranda Kerr during New York's Fashion's Night Out and learned all about what it takes to be an Angel - with a building-wrapping line of fans waiting outside the door for your autograph. Now all the Angels are gearing up for the annual Victoria's Secret Fashion Show in December and if you thought you'd never grow wings of your own, you're wrong. The VS team will be holding its Angel Search at Yankee Stadium this Saturday, Oct. 3, from 8 to 10 a.m. - amateurs, please do apply. If you can't make it, there's still hope, you can apply online until Oct. 24, and the final 10 will be sent off to challenge-heavy, Angel Boot Camp, in New York, where one lucky lady will be chosen as the newest runway Angel.
GREEN WITH ENVY: Chanel has always set the standard for the covet-able nail color of the fashion set and not one editor and buyer can be spotted front row without the Le Vernis polish in Jade for this week's shows in Paris. First strutted down the runway, now available at beauty counters (if you can get on the wait list) the creamy mint green has even made its way onto the wish list of the faint of heart. Want This is not one to wait, so we were tickled pink (or rather, green) when our friends at Barielle sent us their Sweet Addiction polish, an $8 fix, from their high-shine collection. Nearly identical, Sweet Addiction has a more decadent creme jewel tone to it. We're riding high on the pistachio polish trend, at nearly half the price and without the wait. Indulge your own Sweet Addiction online.

DON'T ASK DON'T TELL: The WishList girls have a blog and it's cute. Seriously, very cute. We love it when our local retailers make their way into the social-media-sphere. Especially when their savvy sales girls share their favorite in-store items and plug their latest finds. Yesterday, it was leggings -- the legging meets denim combo that has eyebrows raised everywhere, except in the club of La Lohan. We've shared the detest in the past, but giving into Goldsign's Misfit Legging Jean, we had to come clean. With faux denim detailing and the softest (and shamefully stretchiest) fabric you can imagine, we see these fitting quite nicely into our weekend wardrobe. Try on a pair at WishList in New Haven and Westport.

TAKE IT AWAY TORY: We heard her NYC sample sale this week was a killer but the Tory Burch boutique in Greenwich (203-622-5023) is kicking off her fall with a great big sale, we're talking 40 to 60 percent off your favorite emblem-embellished flats, totes and separates. Plenty of discounted sizes and styles are also available online but we suggest you take a trip in-store to grab those iconic pieces before they're spotted (and sold out) on this week's Gossip Girl.

WANT IT, WIN IT: Our Ideeli Fashion Week gift bag giveaway is still going strong. Don't have a Twitter to enter? No worries, e-mail us at: WantThis@NBCConnecticut.com and tell us our top five favorite local places to shop and our beauty and must-have packed bag is all your's! Additionally, we recommend you check our Ideeli's fab invite only sales, which of course, we have an invite to exclusively for Want This readers.