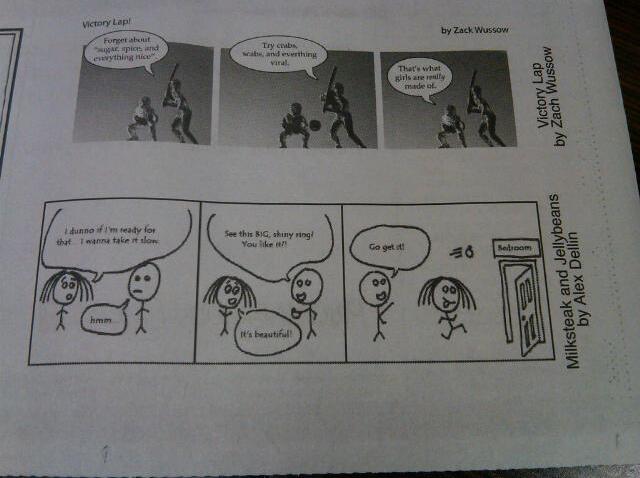 Two comics, one running below the other in The Daily Campus, had the Violence Against Women Prevention Project up in arms and the school newspaper is changing its policy on what makes it to print.
The first said: "Forget sugar and spice and everything nice. Try crabs, scabs and everything viral. That's what girls are really made of."

The second implied that a girl, who was not ready for sex, could be lured into the bedroom with a shiny diamond ring.

"Everyone was really taken aback and surprised that they would allow such things to be printed," Tess Koenigsmark, a UConn junior, said. "The first comic was just a general sexist remark, and the second one, it was sexist, perpetrating, a negative stereotype about women, and also showing a complete disregard for consent for a sexual partner."

Tess and her classmates wrote letters to the editor of the school newspaper about their disgust for what they considered distasteful and demeaning comics.

Daily Campus Editor-in-Chief John Kennedy responded to the criticism in a front-page article.
"Both comics were intended as satire, though they failed in that regard. If a work intended for satire upholds what it meant to subvert, it has failed as satire. Clearly, both comics did just that," he wrote.
"It's within the First Amendment rights of the authors of the comics to publish whatever they please. The comics section is part of the opinion section of our newspaper, so it doesn't represent the newspaper's feelings as a whole," Kennedy said.

The two cartoonists also wrote letters.

Tess said one seemed apologetic, the other indifferent.

The paper is working on updating its policies regarding what can be published, which might prevent future comics like these from making it to the opinion column.

"It's going to be less vague than it was, so it's going to be a tougher policy because the second one, the one involving a ring getting thrown into a bedroom, was seen by many as an example of rape by coercion," Kennedy said.

To take it a step further, the editors, copy editors and artists at The Daily Campus will attend a workshop about violence against women and how to prevent it.
Follow us on Twitter @NBCConnecticut, on Facebook, and sign up for breaking news SMS alerts on your phone by texting "CTBREAKING" to 622669.