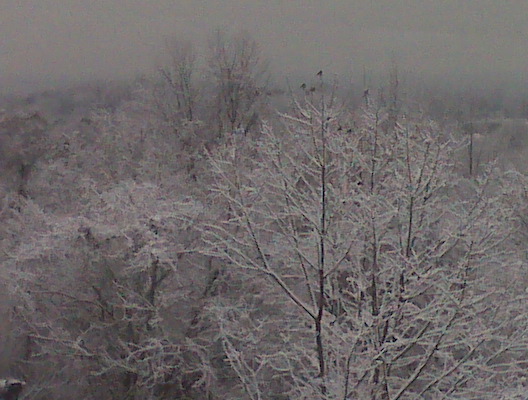 Many parts of the state woke up to a thin blanket of snow. The season's first serious flakes fell overnight.
The forecast called for many towns to receive a coating to an inch of snow, with a few approaching two inches of snow.

Roads were quite slippery during the overnight hours, particularly untreated secondary streets.
One snow plow driver told us this morning that in his business, the first accumulation is a fire drill. And because it is Sunday, and without any rush hour, he said the snow picked a perfect time to fall.
Bonde Johnson, of Allied Snow Plowing 101, who began his day plowing at four in the morning, said it wasn't a bad morning. He said it have been more challenging on a weekday.
For most residents in the state, whether they were headed to church or getting a jump on Christmas shopping for the day, the scene Sunday morning was a pretty one. The gentle snowfall overnight left a coating over much of the state.
"I'm from Florida. I think it's absolutely beautiful," exclaimed Desiree Gianndrea of Chesterfield. "That's why I moved up here."
If you're a snow lover like Gianndrea, Sunday may be the perfect day for walking on the new fallen snow.
There is a chance some flurries or snow showers may redevelop Sunday afternoon. Strong winds and low wind chills (at or below zero) are expected by Sunday night and Monday morning.
Click here for complete forecast details.
Click here for any snow-related closings reported to NBC30.
Click here to sign-up to receive closing alert e-mails.