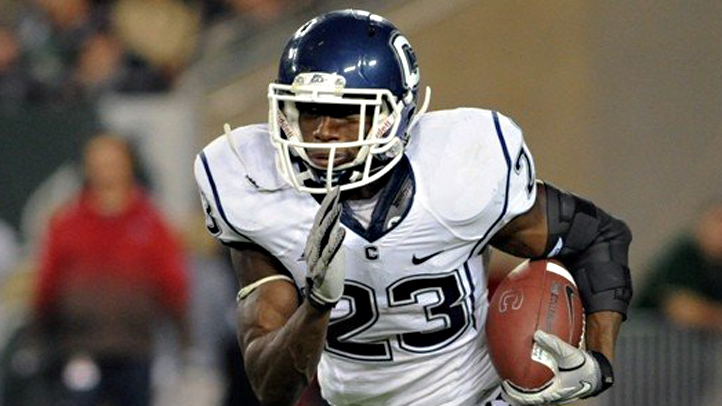 The 2011 schedule for the UConn football team was announced last week, and spring practice begins March 15. But six former Huskies are finishing up a week in Indianapolis where they ran, jumped, and were subjected to all sorts of tests -- both mental and physical -- to impress a group of 32 potential employers. That's right, it's the NFL combine.

Zach Hurd (G), Greg Lloyd (ILB), Scott Lutrus (OLB), Anthony Sherman (FB), Jordan Todman (RB), and Lawrence Wilson (OLB) were all invited to the combine to show off their talents. On Monday, Hurd spoke with the Hartford Courant about the experience.

"I had very good interviews with all the teams," Hurd said. "I feel like I did very well, drawing up...doing plays on the board - just the knowledge I have for the game. And as far as on the field stuff I think I did very well with position drills, showed that I could play tackle as well as pulling and playing guard.

"Nothing I did was top of everybody but I also wasn't at the bottom with everything I did.I was very consistent with everything I did. I was always in the middle to above average."

Hurd ran the 40-yard dash in 5.34, which put him smack in the middle among offensive linemen. Cincinnati's Jason Kelce busted out a 4.93 and Houston's Isaiah Thompson brought up the rear with a 6.06. Hurd also finished somewhere in the middle of the pack in the bench press, the 20-yard shuttle, the vertical leap and the broad jump.

And while these drills aren't the end-all be-all in determining how successful a college player will be in the NFL, it's a starting point.
Which is why teams are likely taking a long look at former Husky Jordan Todman. He ran a 4.40 40 over the weekend, good for fourth best among running backs. Todman also was sixth in bench press, and fourth in vertical leap. Those numbers together with his on-field output as a junior last season (1,789 total yards, 14 touchdowns) should translate into a higher draft position and a bigger payday.
For now, though, the players will continue to train in preparation for UConn's pro day, which is scheduled for March 23.