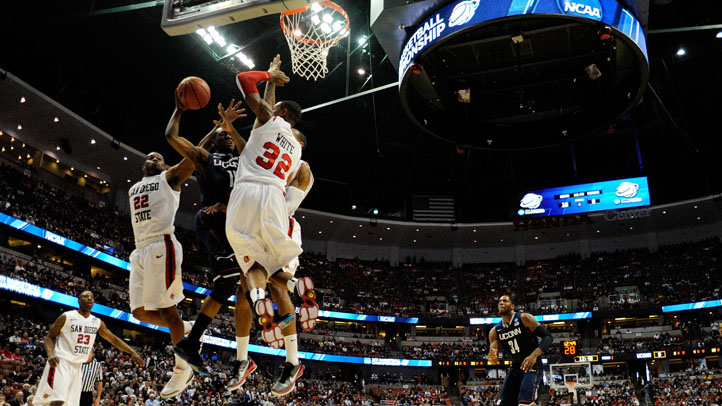 With respect to Verne Lundquist and Bill Raftery, the UConn-San Diego State game could have used some Gus Johnson if only to hear him yell "Cold-blooded!" every time freshman Jeremy Lamb made a jaw-dropping play.

For most of the season two storylines prevailed for the Huskies: Kemba Walker carrying the team on his back, and the inconsistent play of the young players. The last two weeks, Kemba has been, well, Kemba, but Lamb, Shabazz Napier, Roscoe Smith, Alex Oriakhi and Jamal Coombs-McDaniel are all finally settling into their roles.
The results speak for themselves: eight wins in a row, including the Big East Tournament championship, and now UConn is headed for the Elite Eight after defeating No. 2 San Diego State, 74-67.

For as magnificent as Walker was against the Aztecs (he scored 36 points -- his 11th 30-point game this season) Lamb was the difference, at least down the stretch. Ten minutes into the game, however, it looked like San Diego State was poised to run away with it. They had contained Walker (who started 0 for 4) and then coach Jim Calhoun brought in Napier to run the point. This allowed Walker to move to the off guard. He scored his first basket with 10:51 left in the first half and by intermission Walker had 14 points on 5-for-11 shooting, and thanks to a 19-5 run, UConn led 36-27.
San Diego State made adjustments during the break, Walker was back at the point to start the second half, and seven minutes later the Aztecs trailed 43-42. Calhoun again went to Napier, Walker again moved to off-guard and just like the first half, he went off.
When asked if he likes playing off the ball, Kemba told Raftery after the game that, "You know, it's whatever the defense gives us. Tonight was one of those nights where I had to play off the ball and it worked out for us."
And then some.
When looking back at how the final 20 minutes transpired, the turning point might have actually happened after the whistle. During a timeout, San Diego State's Jamaal Franklin was slapped with a technical after knocking Walker to the floor with his right shoulder. At the time, Aztecs led 53-49, 9:19 remained on the clock.

The next thing you know, Walker went on a 14-0 run, and UConn led 65-56 with five minutes to go. But San Diego State wasn't done; they answered with an 8-0 run of their own before Lamb finally decided enough was enough. The freshmen hit a back-breaking three-pointer with 90 seconds to go, and a minute later, made a steal on one end and punctuated it with a dunk on the other and the Aztecs were left to foul and pray as time wound down.

Going into the game San Diego State coach Steve Fisher said his team had to keep Walker off the line because he never missed (coming into the night he had made 21 in a row). So it was only fitting that Walker nailed two free throws with 15 seconds to go to seal the Aztecs' fate and put the Huskies into the next round.

When the dust settled, Walker and Lamb combined for 60 of UConn's 74 points. And although it seems like Calhoun says it after every game, it certainly applies here: "Kemba's the best player in the country … He's just a special player and a special person because he really carries this team on his back."