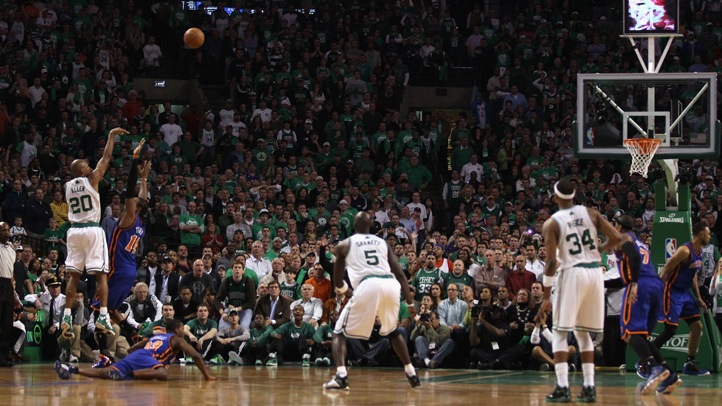 Ray Allen left UConn after his junior season and was drafted by the Milwaukee Bucks with the fifth overall selection in the 1996 NBA Draft. Fifteen years later, Allen, 35, is still playing.

And he's not just an old-timer on the roster to mentor the young players on the team. He's still competing, still making a difference on the court. Look no further than Sunday night's NBA playoff game between the Knicks and the Celtics. Allen hit the game-winning three-pointer to give Boston a 1-0 series lead. (You can see the game highlights here, and Allen's post-game comments here.)

Allen's performance along with this list of UConn's early draft entrants from the Connecticut Post got me thinking about what Kemba Walker's NBA career might look like. Obviously, Walker isn't an inside presence or a shot-blocker, but he is a product of UConn's system. So while we can't compare him directly to Donyell Marshall or Emeka Okafor, we can compare the fact that these are all former Huskies who played for Jim Calhoun.

This table isn't meant to be an exhaustive analysis, just a back-of-the-envelope glimpse into how the 15 previous UConn players who left school early fared in the NBA, and what that could mean for Walker's future.
(for a larger view of the table, click
here
)

I have written previously about Walker's NBA stock; ESPN.com's Chad Ford ranks Walker as the ninth-best player in the draft, and the second-best point guard behind Kyrie Irving. And SB Nation's Tom Ziller writes that Walker should be a better version of Jonny Flynn.

Looking at the average results for the 15 Huskies who bolted early for the pros in the table above, we have the following:

First-round selection: pick 8.5
Years in NBA: 7.4
Games: 495.4
Points: 12.6
Rebounds: 4.8
Assists: 2.4
Steals: 0.8
Blocks: 0.5
While there may be no predictive value in comparing Walker to the former Huskies who bolted early for the pros, it is, at the very least, interesting to see how well UConn has been represented at the next level.
As I have noted before, if Walker has shown us anything it's that there's no challenge he won't meet head-on. There's no reason to think he won't be successful, as his mother pointed out last week: "…With Kemba, it's like every two or three years he spurts. Give him two years in the NBA and you are all going to be like, 'Is that the same Kemba that went to UConn?' He's going to do something different that you're not going to believe."