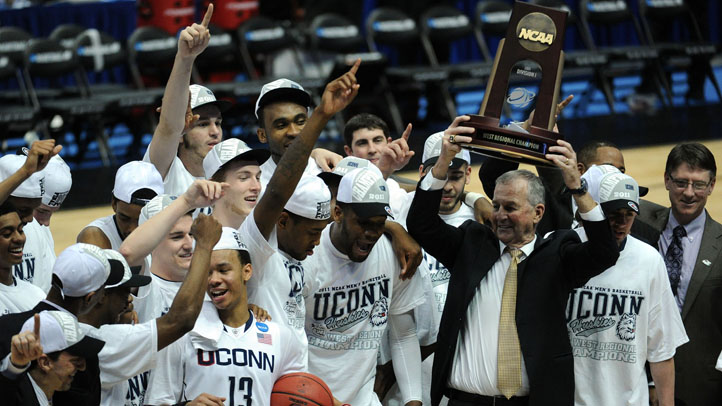 Remember earlier this month, when Kemba Walker told Sports Illustrated's Tim Layden that he had just recently read his first book cover to cover? ("That's true. You can write that. It's the first book I've ever read.")
It took some people by surprise and gave others more ammunition for the "these guys aren't really student-athletes at all" argument. (That the Huskies' are in danger of being punished for chronic academic underperformance doesn't help.)

On Wednesday, coach Jim Calhoun and Walker defended the basketball team's academic reputation after being honored at the state Capitol on Husky Day. Walker told the Associated Press that he is upset his comments about reading just one book in college could harm the basketball program.

"That's just what people want," Walker said. "They want to bring us down. Regardless of what they say, I'm still graduating in three years, so that comment means absolutely nothing. I've read a lot of books."

Clarifying his remarks to SI, Walker told the AP that he loved the book in question so much that he read it cover to cover in one sitting.

"It's a big emphasis on academics at UConn," Walker said. "They make sure we are student-athletes first. I'm going to get my degree. I will find time to do my work."

And Calhoun, ever defiant, took the opportunity to point out that the UConn basketball team has historically been above the Academic Performance Rating minimum (925) the NCAA requires before it imposes sanctions on a program.

"Eight straight years, we made the APR," Calhoun told the AP. "If because someone left early or didn't finish, all those various things that get you ... when you have 16 kids leave [for the pros] in a 10-year period, you are more likely to be more open to [a low APR] happening."

We have written previously about the counterargument to Calhoun's claim that players leaving early explains the low APR: "This year's Insider Higher Ed Sweet Sixteen includes UNC, Duke, Texas, Kansas, and Michigan State. All big-time programs who regularly have players leave school early to play in the NBA."

So while losing players after one or two seasons may affect the APR bottom line, it's not the driving force behind UConn's low rating.