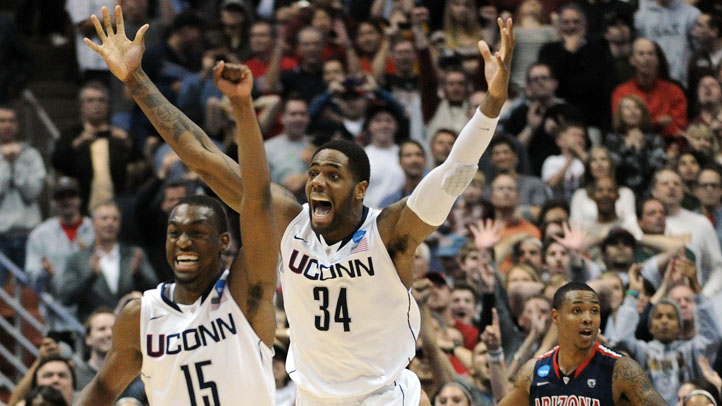 Kemba Walker grew up just a few minutes from Yankees Stadium and Wednesday night he was on the mound to throw out the first pitch. The man who carried the Huskies on his back for most of the season, and played a critical role in UConn's national championship run, admitted that he was nervous about the ceremonial gesture to honor what he and his teammates accomplished earlier this month.
"When I threw it, I thought it was going to be short but [the catcher] caught it -- he went after it and he saved me," a relieved Walker said afterwards. "… I didn't play baseball growing up but it was definitely fun." To be fair, if anyone has earned the right to have others pick him up, it's Kemba.

UConn teammate Alex Oriakhi was less forgiving in his assessment of Walker's performance. "He could've put a little bit more mustard on it, but it was alright. It was alright."

Of course, it's fair to call Oriakhi's baseball credibility into question -- he was also wearing a Red Sox hat. "The Red Sox are my team, I'm from Massachusetts, so I just wanted to represent," he said, somehow managing to keep a straight face. That said, the Red Sox, 2-9 on the young season, have yet to represent so they're surely appreciative of Oriakhi's efforts to pick up their slack.

As for the game, the Yankees beat the Orioles, 7-4.