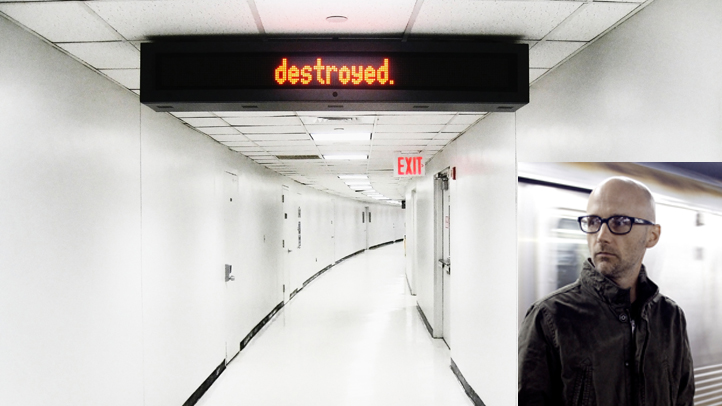 Moby has been taking pictures as long as he's been making music.
The Darien native said his uncle gave him a Nikon when he was 9. Since then, the Grammy winner has carried a passion for taking pictures wherever he goes.
Earlier this month, he was at Samuel Owen Gallery in Greenwich to sign his book of photography, "Destroyed," which features a behind-the-scenes look at Moby's international journeys and the strangeness of touring.
He spoke with us about how he captures strange environments worldwide while on tour, what's keeping him away from producing commercial music and why his fans are not going to see him on stage for the next few years.
Why he called his first photography project "Destroyed"
"When you are at home, you are surrounded by things that are familiar ... your friends, your family, your pet ... When you go on tour, all those thing are "Destroyed" and every day you are in a different and strange environment, so then it's a question of 'what's your identity when you don't have anything familiar around.' I know who I am at home, when I'm surrounded by my stuff. I don't know who I am living in an environment when nothing is familiar.
How the "Destroyed" photography exhibit related to his latest album, which is also called "Destroyed."

The way the productions are related is because they were made at the same time, by the same person, but as far of an artistic meaning, I don't know. It will be a good answer to find out.
Moby on his favorite photo
The cover image is a photograph that I took in La Guardia Airport and it was a long hallway and it has a sign that said "unattended luggage will be destroyed," and the sign only fit one word at a time.
In this big, empty hallway, the word "destroyed" stood out, he said.
So I stayed there taking pictures of the hallway.
Moby on being home

I grew up in Daren, but I was born in New York in 148 Street. I grew up in Connecticut and I'm happy to come back once in a while. Now, I live in LA. My friend Lee owns this gallery and he is one of my oldest friends and his son is my godson, so we thought about showing the pictures to have fun, but also (as a) way for me to come see my godson in Connecticut and my best friends.

The difference between the exhibit and Moby's concerts
Most photos from tours show life as glamorous, but Moby said he wanted to show what life is really like on tour.
When touring, one minute you are on stage in front of 50,000 people and then the next minute, you are by yourself in an empty dressing room or in an empty airport, so this strange contrast between being surrounded by a lot of people and being in a complete isolated environment.
Not a fan of touring
The album "Destroyed" came out a year ago and I've done a lot of touring for it, now hopefully the touring is done. I'm not going to get back to the stage, hopefully, for a long time. I really don't like touring. I want to take a few years without touring. But I will be working making music of course!
What's next for Moby
I just moved to LA and I'm doing a lot of film music up there, so that's basically what I'm doing -- just working on music , film music and taking pictures and, hopefully, not touring. That's about it -- just living and having thoughts and taking pictures.
The intended message
My message will be very simple -- be nice to yourself, be nice to other people and try not to take things to seriously, and live with music.
The exhibition runs through Thursday, April 12 and is free and open to the public. The Samuel Owen Gallery is at 378 Greenwich Ave., Greenwich.
It is open from Monday to Saturday, from 10:30 a.m. to 5:30 p.m. and Sunday, from 11 a.m. 3 p.m.