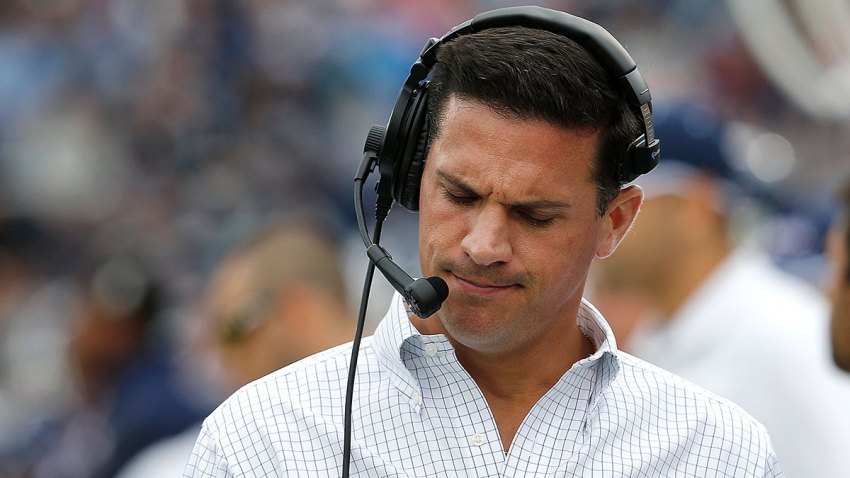 Good news: Defensive backs Andrew Adams and Jhavon Williams received honorable mention nods from the College Football Performance Awards.
Bad news: The American Athletic Conference released its all-conference steams on Wednesday and no one from UConn was recognized. In fact, the Huskies were the only team in the conference not to put a player on the all-conferences squad.
Memphis had six players on the first team -- and 10 overall -- while ECU and UCF had nine players each recognized.
Here's the complete list of awards and winners (via the New Haven Register):
2014 AMERICAN ATHLETIC CONFERENCE FOOTBALL AWARDS AMERICAN ATHLETIC CONFERENCE OFFENSIVE PLAYER OF THE YEAR
Shane Carden, QB, East Carolina (Sr., Houston, Texas)
AMERICAN ATHLETIC CONFERENCE DEFENSIVE PLAYERS OF THE YEAR
Jacoby Glenn, CB, UCF (So., Prichard, Ala.) Tank Jakes, LB, Memphis (Sr., Phenix City, Ala.)
AMERICAN ATHLETIC CONFERENCE SPECIAL TEAMS PLAYER OF THE YEAR
Jake Elliott, K, Memphis (So., Western Spring, Ill.)
AMERICAN ATHLETIC CONFERENCE ROOKIE OF THE YEAR
Marlon Mack, RB, USF (Fr., Sarasota, Fla.)
AMERICAN ATHLETIC CONFERENCE COACH OF THE YEAR
Justin Fuente, Memphis *
ALL-CONFERENCE FIRST TEAM
WR Breshad Perriman UCF Jr. 6-3 214 Lithonia, Ga./Arabia Mountain
WR Justin Hardy * East Carolina Sr. 6-0 188 Vanceboro, N.C./West Craven
OT Eric Lefeld 1 Cincinnati Sr. 6-6 310 Coldwater, Ohio/Coldwater
OT Al Bond Memphis Sr. 6-4 305 Memphis, Tenn./Southwind
OG Parker Ehinger Cincinnati Jr. 6-7 315 Rockford, Mich./Rockford
OG Rowdy Harper Houston Sr. 6-5 295 Broken Arrow, Okla./Broken Arrow
C Taylor Hudson East Carolina Sr. 6-5 285 Greenville, S.C./Mauldin
TE Alan Cross Memphis Jr. 6-1 245 Millington, Tenn./Millington
QB Shane Carden East Carolina Sr. 6-2 221 Houston, Texas/Episcopal
RB William Stanback 2 UCF So. 6-1 225 Hempstead, N.Y./Uniondale
RB Marlon Mack USF Fr. 6-0 195 Sarasota, Fla./Booker
K Jake Elliott 1 Memphis So. 5-10 165 Western Springs, Ill./Lyons Township
RS Deion Sanders Jr. SMU So. 5-7 183 Atlanta, Ga./Atlanta Sports Academy
DL Terrell Hartsfield Cincinnati Sr. 6-3 246 Raleigh, N.C./Copiah-Lincoln CC
DL Terry Williams East Carolina Sr. 6-1 353 Loganville, Ga./Grayson
DL Joey Mbu Houston Sr. 6-3 310 Richmond, Texas/Foster
DL Martin Ifedi 1 Memphis Sr. 6-3 275 Houston, Texas/Westside
LB Terrance Plummer 1 UCF Sr. 6-1 236 Orange Park, Fla./Orange Park
LB Jeff Luc Cincinnati Sr. 6-1 256 Port St. Lucie, Fla./Florida State
LB Tank Jakes Memphis Sr. 5-11 227 Phenix City, Ala./Holmes CC
LB Tyler Matakevich 1 Temple Jr. 6-1 235 Stratford, Conn./St. Joseph's
CB Jacoby Glenn 1 UCF So. 6-0 186 Prichard, Ala./Vigor
CB Bobby McCain Memphis Sr. 5-11 195 Oxford, Ala./Oxford
S Clayton Geathers UCF Sr. 6-2 208 Georgetown, S.C./Carver's Bay
S Adrian McDonald Houston Jr. 5-10 190 Lawton, Okla./Eisenhower
P Mattias Ciabatti USF Jr. 6-0 189 Tampa, Fla./Hillsborough
* unanimous selection
ALL-CONFERENCE SECOND TEAM
WR Deontay Greenberry 1 Houston Jr. 6-3 200 Fresno, Calif./Washington Union
WR Keevan Lucas Tulsa So. 5-10 198 Abilene, Texas/Abilene
OT Torrian Wilson UCF Sr. 6-3 305 Miami, Fla./Miami Northwestern
OT Ike Harris East Carolina Jr. 6-7 304 Irmo, S.C./Dutch Fork
OG J.T. Boyd East Carolina So. 6-4 302 Fort Mill, S.C./Nation Ford
C Kyle Friend Temple Jr. 6-2 305 Carlisle, Pa./Cumberland Valley
TE Bryce Williams East Carolina Jr. 6-6 250 Winston-Salem, N.C./Marshall
QB Paxton Lynch Memphis So. 6-7 230 Deltona, Fla./Trinity Christian Academy
RB Kenneth Farrow Houston Jr. 5-10 218 Hurst, Texas/L.D. Bell
RB Brandon Hayes Memphis Sr. 5-8 198 Chicago, Ill./Scottsdale CC
K Andrew Gantz Cincinnati Fr. 5-9 158 Dayton, Ohio/Centerville
RS Keiwone Malone Memphis Sr. 5-11 155 Memphis, Tenn./Alabama
DL Jaryl Mamea UCF Sr. 6-1 283 Fagasa, American Samoa/Chabot College
DL Thomas Niles UCF Jr. 6-2 270 Gainesville, Ga./Gainesville
DL Matt Ioaniddis Temple Jr. 6-4 285 Ringoes, N.J./Hunterdon Central
DL Praise Martin-Oguike Temple Jr. 6-2 250 Woodbridge, N.J./Woodbridge
DL Derrick Alexander Tulsa Jr. 6-2 270 Tulsa, Okla./Booker T. Washington
LB Zeek Bigger East Carolina Jr. 6-2 228 Gastonia, N.C./Ashbrook
LB Brandon Williams East Carolina Sr. 6-1 230 Rock Hill, S.C./Hargrave Military
LB Efrem Oliphant Houston Sr. 6-`1 220 Houston, Texas/Langham Creek
CB William Jackson Houston Jr. 6-1 185 Houston, Texas/Trinity Valley CC
CB Lorenzo Doss Tulane Jr. 5-11 187 New Orleans, La./St. Augustine
S Brandon Alexander UCF Sr. 6-2 195 Orlando, Fla./Evans
S Sam Scofield Tulane Sr. 6-1 186 Lafayette, La./St. Thomas More
P Spencer Smith Memphis Fr. 6-1 175 Newnan, Ga./East Coweta
ALL-CONFERENCE HONORABLE MENTION
QB Gunner Kiel Cincinnati So. 6-4 208 Columbus, Ind./Notre Dame
LB Nick Temple Cincinnati Sr. 5-10 224 Indianapolis, Ind./Warren Central
WR Andre Davis USF Sr. 6-1 205 Tampa, Fla./Jefferson
C Austin Reiter USF Sr. 6-3 296 Bradenton, Fla./Lakewood Ranch
CB Tavon Young Temple Jr. 5-10 174 Oxon Hill, Md./Potomac
LB Nico Marley Tulane So. 5-9 200 Weston, Fla./Cypress Bay
CB Parry Nickerson Tulane Fr. 5-11 179 Terrytown, La./West Jefferson
P Dalton Parks Tulsa So. 6-3 202 Kansas City, Mo./Staley