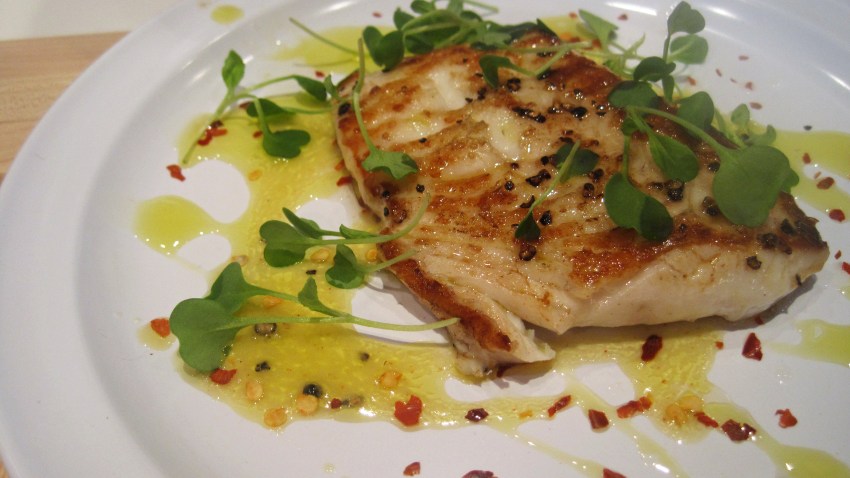 4 Cod Fillets- 5 oz. each, or substitute any favorite white fish
½ Cup All Purpose Flour-seasoned with salt and pepper
2 Tbsp. Olive Oil
3 Tbsp. Extra Virgin Olive Oil
1 Cup Onions-sliced
½ Cup Carrots-chopped ¼"
1 tsp. Fresh Thyme-chopped
1 tsp. Fresh Garlic-minced
1 ¼ Cups Canned White Beans-drained
¾ Cup Vegetable Broth, or Chicken Broth, or Water
¾ Cup Roasted Red Peppers-diced ½"
4 Tbsp. Flat Leaf Italian Parsley-coarsely chopped
Salt and black pepper to taste
Preheat oven to 400º f. Heat a sauté pan on medium high heat. Lightly coat both sides of each fish fillet with the flour, shaking off the excess. Add the olive oil to the pan and add fish fillets. Cook for about 2 minutes on each side or until a light golden. Remove fish to a sheet pan.
In the same pan the fish was cooked in, drain the oil and add second measure of olive oil. Add the onions and carrots , cook for about 5 minutes stirring occasionally until tender. Add the thyme, white beans and broth. Simmer for about 5 minutes, add the roasted peppers, parsley, and season to taste with salt and black pepper. Reserve hot.
To finish, place the fish in the oven for about 5-8 minutes depending on the thickness of the fish until the fish flakes and is 145ºf measured at the thickest point with a thermometer. Serve fish fillets on a bed of the white bean stew. Enjoy!