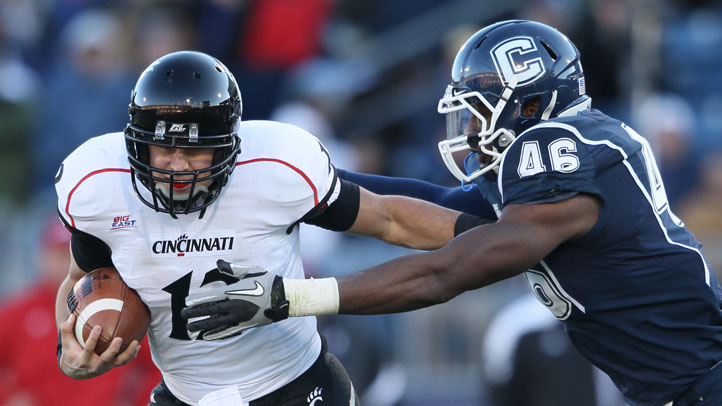 We've mentioned previously all the UConn seniors participating in All-Star games this month. The Senior Bowl is the biggest of these -- every NFL team is well represented in Mobile, Ala., all week -- but there are other games that ultimately serve as a launching pad to an NFL career. That's the hope for Sio Moore, the senior linebacker who inexplicably didn't get an invite to the Senior Bowl despite being one of the Huskies' best defenders.

He did get a chance to participate in the East-West Shrine Game last week and he did his best to impress scouts and media.

According to the New Haven Register's Jim Fuller, Moore drew praise for his four-tackle performance, and one play in particular drew the attention of NFL Network's Mike Mayock. Moore tracked down Texas A&M running back Christine Michael for a tackle behind the line of scrimmage which prompted Mayock to offer this laudatory assessment of Moore's game.

"I like the combination of heavy production at a BCS school, a great week of practice and following it up with a solid game," Mayock said. "I think as this process goes on you are going to see this guy start to rise, and I wouldn't be surprised at all if at the end of April he doesn't end up in the third round."

That's high praise, indeed. Heading into the offseason, NFLDraftScout.com ranked Moore as the No. 15 outside linebacker in the draft and a potential fourth-round pick.

Former UConn players Ryan Griffin, Trevardo Williams, Blidi Wreh-Wilson and Dwayne Gratz will compete this weekend at the Senior Bowl.