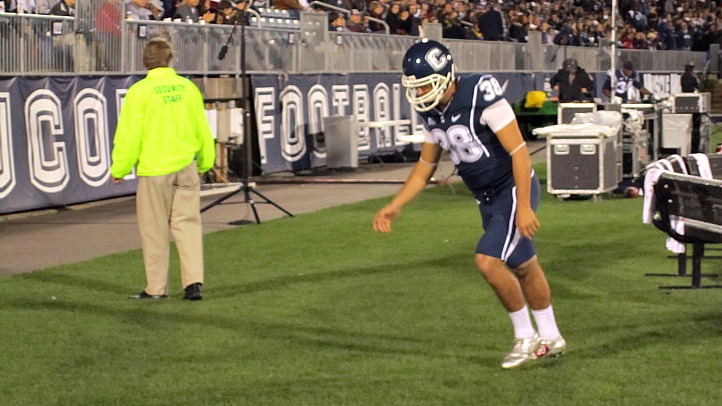 Dave Teggart left UConn as its all-time leading scorer and holds the record for field goals made. He wasn't drafted after his college career ended in 2012, but signed as free agent with the Bears. He was released in training camp, spent several months in California working on his game, and put on an impressive workout performance in March that landed him a tryout with the Seahawks. But Seattle didn't sign him either and now Teggart, along with his father, has started the Teggart Total Kicking program. Still, the NFL dream remains alive.

"Robbie Gould he is a great kicker," Teggart told the New Haven Register of his stint with Chicago last summer. "He is a great guy to learn from but competing against a guy like that, I think he is pretty safe there. It was a great learning experience, I learned from the best. I went to California and trained. At a showcase in Arizona in March, won the field goal portion and I ended up they flew me to Seattle for a workout.

"Hopefully I keep getting these workouts," Teggart said. "All I can control is staying ready and be ready when I get the call."

The problem -- like every other position on an NFL roster, is that supply outstrips demand.

"There are so many kickers out there and so few spots. I have no illusions that it is easy. Obviously it is not the easiest position to make it, there are four quarterbacks, four linebackers for each position and for kickers there is only one. You have to get lucky and stay ready; you never know when the call is going to come. I will always stay in shape, always stay ready. I am still booming the ball. I am going to keep training forever, it is one of those things that I can use my abilities to help kids and keep myself in shape."

Teggart will continue to work and wait for his break. It's not an atypical path for most NFL kickers, most of whom weren't drafted.

"I feel like I am kicking better than I ever have," Teggart said. "At UConn I never really (kicked off) because we had Desi Cullen and he got it into the end zone every time and Chad (Christen) does very good kickoffs and I never really got the chance to showcase that ability. That is something I have improved upon; field goals have never been a problem for me it is just kickoffs. I am putting the kickoffs out of the end zone now and it is just a matter of getting into the right place at the right time, have somebody see me and take a chance on me."